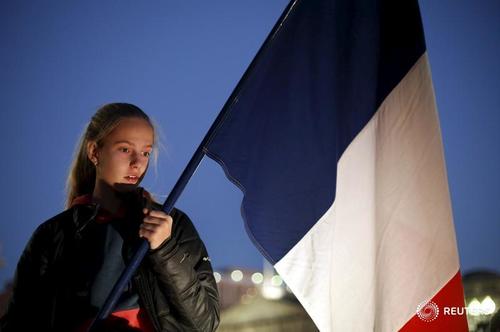 ---
LOS ANGELES: Islamic terror thriller "Made In France" was days from its premiere in Paris when Said and Cherif Kouachi walked into the offices of Charlie Hebdo and began unloading their Kalashnikovs.

Dimitri Storoge, who plays the lead jihadi in French auteur Nicolas Boukhrief's latest feature, darkly recalls following the events of January 7, 2015 as they played out live on television and on social media.

Key suspect of Paris attacks caught

"I was totally shattered, there's no other way of putting it. I was on my computer, like everyone else, trying to follow what was happening," the 38-year-old Frenchman told AFP.

"My first reaction was to send texts, call as many friends as possible and make sure those closest to me were safe."

"Made In France," the story of a homegrown terror cell planning mayhem in the French capital, was deemed too close to the real events, which left 17 people dead at the satirical weekly magazine and a Jewish supermarket.

Its distributor SND Films pulled out and the movie was eventually picked up by British company Pretty Pictures and given a new release date of November 18.

But life again imitated art in the most grim manner imaginable when, five days before the rescheduled premiere, members of the Islamic State group attacked a Parisian concert hall, stadium and restaurants and bars, leaving 130 dead.

Sidelined once again, "Made In France" looked like it would have to make do with a domestic video-on-demand and DVD releases, and late night screenings at film festivals in Estonia and South Korea.

But its fortunes could be about to turn after it was selected for COLCOA in Los Angeles, the world's largest festival of French film, where it makes its North American theatrical debut on Tuesday.

It has been a long and painful process for all involved, but Storoge says any frustration over the film's difficult journey to the big screen was quickly put into its proper perspective.

"When the attacks happened at Charlie Hebdo and the kosher supermarket, and then at the Bataclan (theater) and the cafe terraces, our reaction was a human reaction, not the reaction of actors," he said.

Paris attacks suspect Abdeslam captured in Brussels

"Frustration over the film was nothing compared to the enormity of what was going on. You can't talk about frustration or disappointment. We were beyond thinking about the film."

"Made in France" is in good company at COLCOA, which features a record slate of 70 films and TV series this year, many dealing with hot-button issues including racism in the entertainment industry and the Armenian genocide.

"This 20th anniversary deserves a spectacular, strong program that reflects the diversity of French production, as well as the creativity and dynamism of French filmmakers and producers," festival executive producer Francois Truffart said as he announced "Made In France" among several highlights of this year's program.

The film follows Sam, a Franco-Algerian journalist who is researching extremism and goes undercover at a radical mosque in suburban Paris.

Storoge plays the group's psychotic leader Hassan, who has returned from a trip abroad with stories of jihadist training camps in Turkey, Iran and Pakistan.

Co-written by Boukhrief with Eric Besnard and filmed in Paris between August and October 2014, "Made In France" was inspired in part by the bombing of a Paris commuter train station in 1995.

Fugitive from Paris attacks wounded, caught in Brussels shootout

Hollywood Reporter film critic Peter Debruge described it as "a thoughtful and sobering 'what if' scenario of home-grown, domestically targeted terrorism that's being punished for having eerily anticipated a real-world tragedy."

"Working with Nicolas was honestly, I believe, one of the greatest experiences of my life as an actor. He is a filmmaker whose work I had admired for a very long time," Storoge said.

"We had a project together a few years ago that didn't work out. He is one of those directors who understands the grammar of cinema, and who has a deep love of cinema."

Storoge began long discussions to finesse the character of Hassan as Boukhrief was beginning to flesh out a script in 2012, having amassed a wealth of knowledge on jihadism.

The end result is a film taking in complex themes from religion and radicalism to complacency in the face of a domestic threat, which nevertheless wears its weighty subject matter lightly enough for mainstream audiences to enjoy, says Storoge.

"I have had very different reactions. There are people who loved the film and others who were very rattled by it," he told AFP.

"But on the whole the reaction has been good. You have to remember that it isn't a political film, it's not a social realist film, it's a thriller."