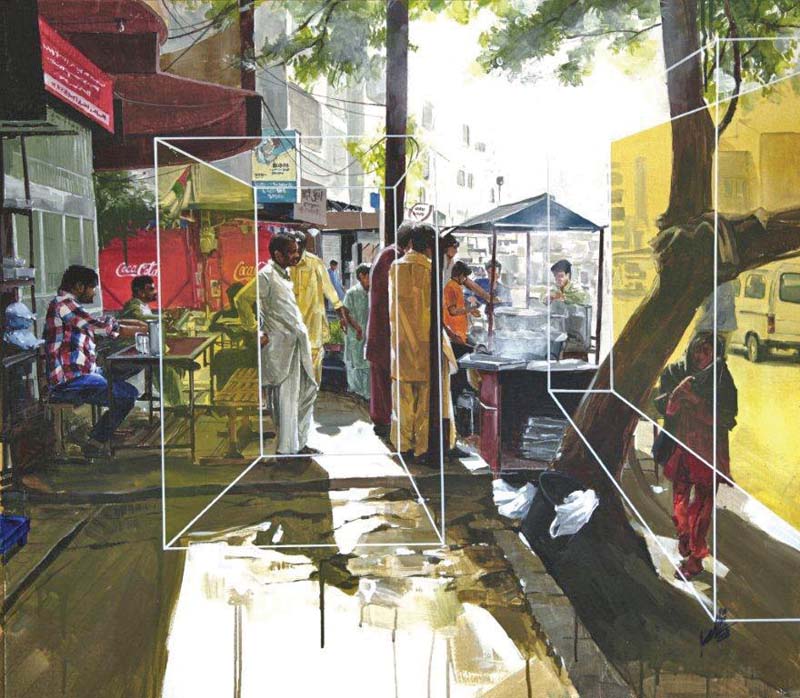 ---
KARACHI: We live in a chaotic world, noise and commotion surrounds us, everyone is racing to reach the top and, in this rat race, there are many moments we tend to overlook.

Artist Khalid Khan, also known as Kaay, portrays a refreshing look of the port city that captures the essence of the everyday interactions in the city. His exhibition, 'Kaay for Kolachi' opened at the Epic Art Gallery on Sunday.




Kaay has lived in United Kingdom and Germany but returned to his homeland last year, after a gap of 10 years. "When I came here, a lot of people told me that Karachi is very dirty now but I don't see the dirtiness. It's not beauty but originality [of a place] that attracts me."

The artist believes that it is the minute details that are generally overlooked that make a place special. "When I used to live here, there were so many small things I never noticed. But when I returned, I started noticing them."

It is these details that connect with the viewers. The crowded lanes, the signboards in Urdu and English, the electric pole tangled with numerous wires, colourful containers stranded at the port with ship loaders in the background, parked cars with faded vehicle covers and myriads of images that we choose to overlook in our daily lives.

Kaay's paintings are a product of the nostalgia he feels for the city. Speaking about one of his paintings, titled 'Halwa Puri', he said that it is set in Nazimabad, the place where he grew. He depicts the overall feel of a roadside restaurant, with people eating and enjoying their food, a Suzuki van passing by and a girl beggar standing beneath a tree, red walls with Coca Cola sign painted on them.

This is everything you see in your daily life but never stop to notice it, said Jimmy Engineer, the chief guest at the opening of the show. "Capturing the surrounding, atmosphere and space is painting with spirit. Each stroke in the paintings carries meaning."

A prominent feature of his paintings is the transparent outlined boxes. "Karachi is becoming too commercialised and slowly its cityscape will change. The boxes represent the future changes that will occur as well as my memories of the place," said Kaay, while explaining their significance.




"He [Kaay] does not focus on the regular icons of Karachi, such as Mohatta Palace, but captures the commotion inside the narrow lanes of the city," said the curator of the exhibition, Bindia Rana. "He has depicted a time when Karachi was not as polluted as it is today. People were at ease, doing things at their own pace."

Speaking about the theme of the exhibition, he said that Karachi is home. "You may live anywhere in the world but you also remain connected to the city."

The exhibition will continue till April 22.

Published in The Express Tribune, April 19th,  2016.