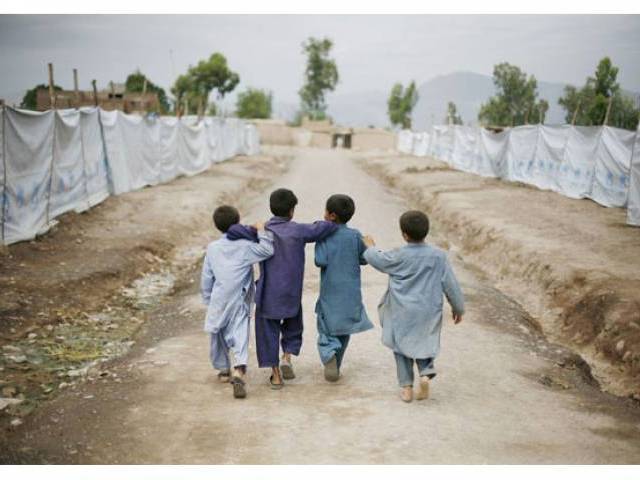 ---
PESHAWAR:



Rehan, 7, who went missing on April 14 from Chamkani in the city, has been found dead in Akbarpura in Nowshera, pushing the number of children who vanish only to turn up dead to 10 so far in Peshawar since April 2015.




Rehan, a student of class two, disappeared from Mazaro, Chamkani. His body was found by fishermen in a river in Akbarpura from where it was sent to Chamkani and buried without any questions on April 17.

No foul play?

Talking to The Express Tribune, Raj Gul, who heads the local Islahi Committee, said the boy probably fell into Bara River during the high flood and drowned.

"No one saw him drowning but this is the only explanation," stated Gul.

"His parents were really worried after his disappearance and were searching for him. A daily report (roznamcha) was registered with the local police station," he added. Gul was of the belief no one suspected foul play.

"Let me tell you one thing clearly…this is an accidental death. The boy probably tried to cross a wooden bridge which was in bad shape, fell in the river and disappeared," he stressed.

Ringing alarm bells

Keeping in mind how many children have gone missing since 2015, someone should have been alarmed by the appearance of Rehan's remains. The most obvious candidates were the police, however, this does not appear to be the case. Instead of looking at each missing child who is found dead as suspicious, not much is being done, at least not systemically.

When contacted, Nowshera DPO Wahid Mehmood said there were widespread rumours gangs were involved in organ theft; gangs which kidnap children and kill them to steal their kidneys.

"There are reports these gangs are killing children and then disposing off their bodies in rivers and canals openly. We are investigating it," said the DPO. "Everyone in the area is telling me these things – we are taking it very seriously, we are investigating it."

Advocating for life

According to Arshad Mahmood, a child rights activist, so many deaths could not be accidental.

"Police need to investigate along scientific lines, the way they dig into cases of terrorism. The culprits need to be arrested," he told The Express Tribune. Mahmood added there was no working child protection system in the province to step in.

Child rights activist Imran Takkar slammed the provincial government for its inability to act.

"This is indeed a crisis which the government has failed to deal with it. It seems an organised gang is involved in the crime and is killing children openly without inviting any attention," Takkar added.

Since March 26 till April 18, at least eight children went missing from Peshawar. Their whereabouts remain unknown.

After initial alarm over the disappearances and subsequent deaths, the police rejected the theory that the line of bodies was connected. The police now take each case on and investigate it as a separate entity.

Published in The Express Tribune, April 19th, 2016.