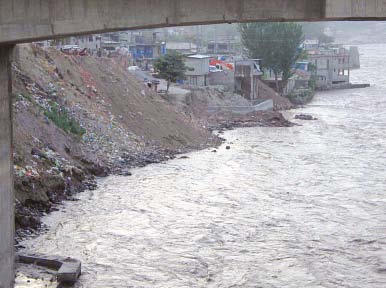 ---
MUZAFFARABAD: A government official of Azad Jammu and Kashmir (AJK)'s Revenue Department and his six family members were killed in a road accident in Neelum Valley in the wee hours of Monday.

According to the district administration of Neelum Valley, Assistant Commissioner Hattian Bala Abdul Ghani Mir, along with his six family members, was on his way from Muzaffarabad to Doodniyal, Neelum Valley to attend the funeral prayers of his mother who passed away on Sunday.

Death toll from northern Pakistan rains rises to 71

The official jeep in which Mir was travelling, along with his ill-fated family, fell into the river near Dowarian, some 80 kilometres away from the capital city of AJK.

Rescuers with the help of local people found the bodies of Mir and his eldest son Nasir Mir, while the other five family members are still missing.

"Neelum River is in flood and we cannot say that the other missing family members will survive, however, we will try our best to search for them. We also informed the Kohala and Mangla police checkpoints about the accident and if they find the bodies of the missing they will inform us," Deputy Commissioner Neelum Valley Hameed Kiyani told The Express Tribune.

The incident comes days after scores of people lost their lives in Khyber-Pakhtunkhwa (K-P) and Kashmir due to heavy rains followed by landslides and roof collapses. In AJK alone, dozens of tourists had stranded in the picturesque Neelum Valley as authorities attempted to evacuate them.

Neelum Valley: Four die in AJK as truck falls into river

In 2014, four people had been killed and three others injured when a truck fell into the Neelum River near Kel in Upper Neelum Valley. Police said the truck, which was carrying seven people in total, fell into the river while negotiating a sharp curve after the driver lost control of the vehicle.

Road accidents have become commonplace across AJK as most roads are in a dilapidated condition owing to their poor maintenance by the authorities.