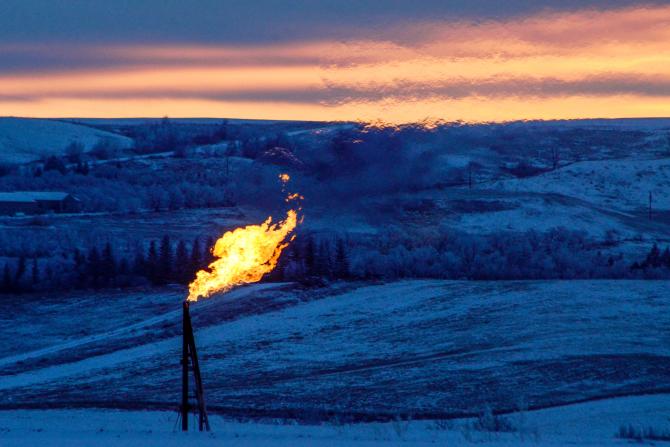 ---
SINGAPORE: Oil prices plunged on Monday after the world's top producers failed to reach an agreement on capping output aimed at easing a global supply glut, sparking fears it could set off another round of price falls.

Hopes the OPEC exporters club and other major producers including Russia would agree to freeze output at Sunday's talks in Doha helped scrape oil prices off the 13-year lows they touched in February.

But the commodity tanked Monday after kingpin Saudi Arabia walked away from the talks, which many hoped would ease a huge surplus in world supplies, because of a boycott by its rival Iran.

Oil producers mull output freeze in Doha, Iran stays home

At around 0300 GMT, US benchmark West Texas Intermediate for May delivery was down $2.02, or 5.0 percent, at $38.34 a barrel, while global benchmark Brent crude for June lost 4.55 percent, or $1.97, to $41.13.

"Expectations for the talks to end with an agreement were high, and the lack of one damaged the credibility of future meetings to support the oil market," said Bernard Aw, market strategist at IG Markets Singapore.

"Asia is set for a negative start to the week, given this development. Commodities are expected to be beaten back... and this would have consequences for equities, especially energy and material counters," he said in a market commentary.

Oil trades cautiously ahead of crunch producers' summit

Sanjeev Gupta, an oil and gas analyst at EY, told AFP that failure in Doha "revived price collapse fears especially after Saudi Arabia hardened its stance and threatened to raise production quickly if no freeze deals were reached".

Peter Lee, an oil and gas analyst BMI Research, said prices are expected to trade below $40 again.

"This is mostly because in the lead-up to the meeting in Doha, many were bullish about the outcome. Now as the markets digest the news, the downflow risk would level between 5-15 percent," he told AFP.

Angus Nicholson, also of IG Markets, said geopolitics was behind the failure of the talks.

"With Saudi Arabia fighting proxy wars with Iran in Yemen and Syria/Iraq, it is understandable that they had little inclination to freeze their own production and make way for newly sanctions-free Iran to increase their market share," he said.

Members of the Organization of the Petroleum Exporting Countries (OPEC) -- which accounts for about 40 percent of world output -- and other big producers have been seeking to ease a slump that has cost them billions of dollars in lost revenue.

Oil glut set to ease this year: IEA

Major exporters around the world from Nigeria to Venezuela, and even Saudi Arabia, have suffered as prices have slumped from levels above $100 touched in mid-2014.

But Iran, which only recently returned to world oil markets after the lifting of nuclear-linked Western sanctions in January, has ruled out capping its own production as it seeks to regain market share.

"The market share battle is expected to rage on as the failure of the oil-freeze pact could set off another price drop," Gupta said.

Opinion had been split over whether a deal on Sunday would be enough to tackle the global oversupply, which is also due to slowing demand in major consumer China and burgeoning US shale production.