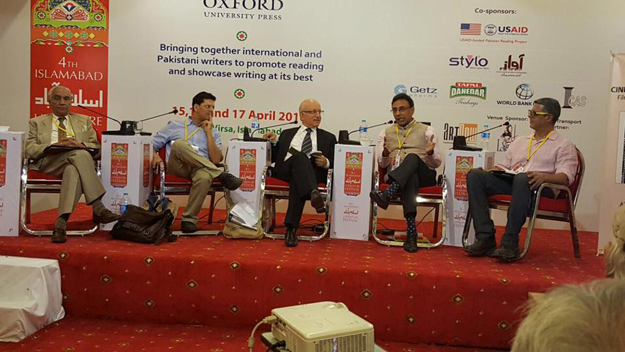 ---
ISLAMABAD:



Tyrannical regimes, social taboos and censor boards have been a major reason behind the downfall of cinema in Pakistan, writers Ali Khan and Omar Ali Khan said at a book launch on Sunday.




They were speaking at the launch of the book "Cinema and Society: A History of Pakistani Cinema" at the Islamabad Literature Festival. The book has been co-authored by Ali Khan and Ali Nobil Ahmad.

The panellists comprised the duo along with Indian writer Pran Nevile and Sumant Batra, a New Delhi-based corporate and policy lawyer who also preserves old films.

How PK got censored in Pakistan

Ali Khan told the audience that the book was a compilation of essays that covered topics ranging from influences of language and ethnicity on cinema to visual nature of films.

He said that the book had taken two years to compile, with an entire year going towards putting the visual content together.

Nevile and Batra lamented the fact that there was very little documentation available on the pre-partition cinema and stars in both India and Pakistan.

Batra proposed a joint venture with Ali and Omar Khan to work towards documenting the pre-partition cinema on both sides of the border.

Omar Khan mentioned that the book tries to shine a light on the large percentage of films that are made in Pakistan, but no one talks about.

He said that these films are the true reflection of our society and people; and for a proper analysis, 'we must consider these films', and read between the lines and reflect on the language they use.

Ali Khan, lending support to the idea, said that if you looked at the progression of the Pakistani cinema, it was the reflection of the political and social changes in the country.

Talking about the journey of Indian cinema, Batra said, "Indian cinema has played a very wholesome role and also made films for all people and segments of society."

The panelists also discussed the issues that are considered taboo in Pakistani films.

Omar Khan said that the censor board rules were written decades ago and did not serve today's society.

Ali Khan said that the book analyses how some films, made in Pakistan, have been approved by the censor board while films dealing with political and social issues, have not been passed by the board.

Pakistani cinema strikes back and it's on the right track

By comparison, according to Batra, the Indian film industry has had the upper hand in India where there was 'no association between films and religion.'

Ali Khan said that for the Pakistani film industry to revive, it should not compete with Bollywood but in fact, should try to find a niche for itself internationally.

Published in The Express Tribune, April 18th,  2016.