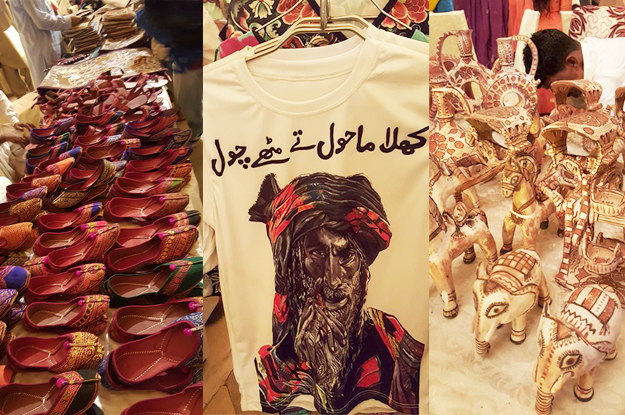 ---
LAHORE:



The theme for Daachi Foundation's eighth arts and craft exhibition at the Lahore Grande on The Mall is children. The exhibition features traditional handicraft and intricate art pieces from all over the country. However, it is the music played at the exhibition which celebrates children. "Some of the handicrafts for sale especially target children," Daachi Foundation chairperson Ayesha Noorani said on the second day of the exhibition on Sunday.




The Daachi Foundation had invited craftsmen from all the over the country to put some of their best works up for sale. "This is in accordance with Daachi's tradition of reviving and promoting indigenous crafts and culture."

The exhibition began on April 16 and will come to a close on Monday (today).

A variety of handicrafts including Mughal Art lacquer wood work, decorative glass cut pieces, elaborately painted handmade khussas, copper ornaments, pottery from Mohenjodaro, blue pottery or Kashi work from Multan, hand-woven applique work from Hyderabad, block-printed bed sheets, camel skin lamps, intricate wood work, tile work and truck art items are on display for sale at the exhibition.

Noorani said Daachi's slogan, Guarding Our Heritage, addressed a wide range of issues, from culture to health, environment and the young generation. "It is our mission at Daachi Foundation to inculcate a sense of pride and ownership of our culture, ideology and heritage in our new generations. This will help them develop a sense of responsibility towards our people, our environment and our culture."

Malik Abdul Rehman Naqash, who specialises in decorating camel skin lamps, said that his family had been involved in the profession for hundreds of years.

In 2007, this form of art was recognised by the UNESCO as being unique to Pakistan and Multan. "The kinds of patterns we've been drawing for ages have never been copied anywhere else in the world," said Rehman. This craft was introduced in Multan by the Sufis of that time, such as Bahaudin Zakaria, he said.

It usually takes 20 to 30 days to make a 3'2 foot long lamp, he said. "A lamp costs around Rs20,000 to Rs25,000 depending on how intricately it is painted."

Muhammad Aslam, a potter from Badin, displayed toys and decorative pieces at his stall. He said the items at his stall were usually made and sold at local festivals.

Aslam said a toy cost Rs250. "More than 50 steps are required to prepare the final product."

Muhammad Qasim from Badin displayed a darri – a carpet woven out of cotton – which takes three months to prepare. "Traditionally, we give darris to guests for use as bed sheets or as gifts on the occasion of marriage and Eid."

Published in The Express Tribune, April 18th,  2016.