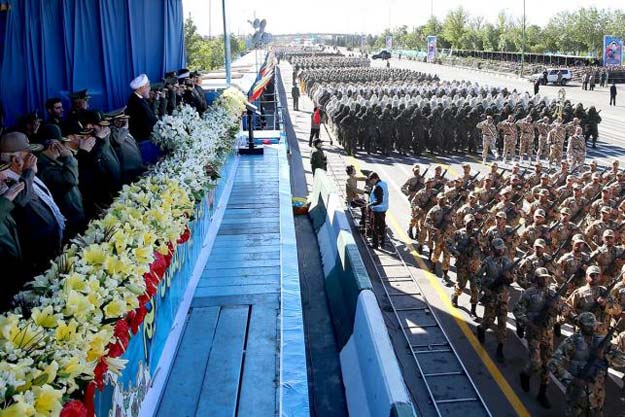 ---
DUBAI: Iran showed off parts of its new Russian S-300 missile defence system during National Army Day on Sunday, where President Hassan Rouhani said the country's armed forces were no threat to neighbouring countries.

Every year, Iran's armed forces hold parades across the country to mark Army Day. In a ceremony in Tehran, broadcast live on state television, trucks carrying the missiles drove past a podium where Rouhani and military commanders were standing. Soldiers also marched passed the podium and fighter jets and bombers took part in an air display.

Iran to stage military drill near Pak border

"The power of our armed forces is not aimed at any of our neighbours ... Its purpose is to defend Islamic Iran and act as an active deterrent," Rouhani was quoted as saying by the state news agency IRNA, in a speech at the Army Day ceremony.

Russia delivered the first part of the S-300 missile defence system to Iran last week, one of the most advanced systems of its kind that can engage multiple aircraft and ballistic missiles around 150 km (90 miles) away.

Russia has said it cancelled a contract to deliver S-300s to Iran in 2010 under pressure from the West. President Vladimir Putin lifted the ban in April 2015, after an interim agreement that paved the way for July's full nuclear deal with Iran that ended international sanctions.

Since then, Iran has upset the United States by carrying out four ballistic missile tests, which the United States and its European allies said were in defiance of the United Nations resolution adopted in July.

Iran nuclear deal: EU's top diplomat admits difficulties

Rouhani said on Sunday that during the nuclear talks Iranian negotiators also aimed to maintain and boost the country's military capabilities.

Iran has two armies, a regular one which operates as a national defensive force, and the Islamic Revolutionary Guard Corps that was created after the Revolution to protect the Islamic Republic against both internal and external adversaries.

The army has the biggest ground force in Iran and IRGC is in control of growing arsenal of ballistic missiles.

In its first overseas operation since the Revolution, the regular army said earlier this month that it had deployed some of its special forces and commandos to Syria to help President Bashar al-Assad in the civil war there.