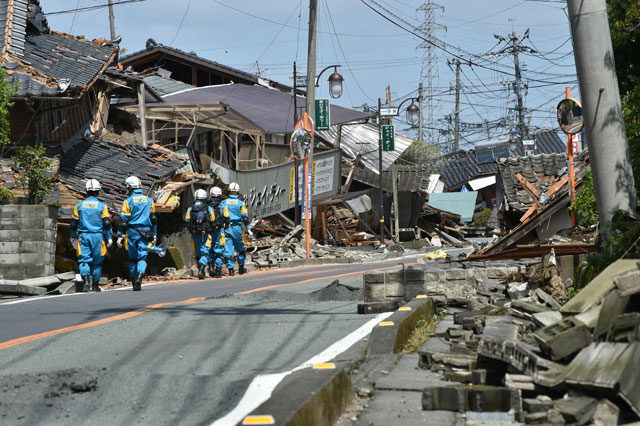 ---
MINAMI-ASO: Rescuers used shovels to dig through mountains of soil Sunday as they raced against the threat of more landslides to reach people still trapped by two big earthquakes in Japan.

At least 41 people are known to have died in the double disaster, with 11 still missing -- feared buried in shattered houses or under torrents of mud.




Heavy rain forecast for the area around Kumamoto did not materialise Sunday, offering qualified relief for officials who cautioned that continued aftershocks might spark further mudslides.

Tens of thousands of people had spent the night in temporary accommodation, or huddled in makeshift shelters as the rescue effort stepped up a gear.

Up to 25,000 personnel fanned out through stricken villages where scores of traditional-style houses were shattered by the quake, or buried in the earth and rock that cascaded down hillsides.

In badly-hit Minami-Aso, dozens of rescuers worked with hand-shovels in a delicate operation to reach at least one person who has not been seen since the 7.0 magnitude quake struck in the small hours of Saturday.




Where four houses had once stood on a ridge, only three remained; the fourth washed away by a tide of earth that swept through the settlement.

Yoko Eto, 38, said her neighbour, whom she identified as Mr. Katashima, had been found dead with his dog, but his wife was missing.

Still visibly shaken, she spoke of her horror as a torrent of muddy water from a nearby reservoir gushed through her home.

"I could hear a rumbling sound soon after the quake. It felt like only a few minutes before the water came rushing through the ground floor," she told AFP.

Eto scrambled to safety with her elderly father, but has been left with nothing.

"I thought I might be able to find some important things, like ID documents," she said as she scoured the ruins of her home. "But I could only find old photo albums."

In nearby Mashiki few of the traditional style wooden houses remained intact.




"I sleep in a car and stay in this tent during the day," Seiya Takamori, 52, told AFP, gesturing to a shelter made from a blue plastic sheet.

"In this area, we all knew there was an active fault running underneath the town of Mashiki, but no one really cared about it.

"We always said to each other that a big quake would hit at some point, but didn't really take it seriously."

More than 90,000 people have been evacuated, including 300 from an area near a dam thought to be at risk of collapse.

Isolated villages in mountainous areas were completely cut off by landslides and damage to roads.

Aerial footage showed a bridge on a main trunk road had crashed onto the carriageway below, its pillars felled by the huge seismic jolt.

The government had said Saturday that there were "multiple locations where people have been buried alive", and reports suggested scores were missing, but the number was sharply down by Sunday.

Prime Minister Shinzo Abe said Japan's rescue effort was to be augmented by the United States military.

"Our defense minister informed me that the US military said aerial transportation is available. We are grateful for the offer," he said.

The US has almost 50,000 servicemen and women stationed in Japan.

More than 400 aftershocks have rocked Kumamoto and other parts of central Kyushu, an area unaccustomed to the powerful quakes that regularly rattle other parts of Japan.

Thursday's initial quake affected older buildings and killed nine people, but Saturday's brought newer structures crashing down.

It also looked set to affect industry, with car giant Toyota announcing the gradual suspension of assembly lines nationwide, citing problems with parts suppliers in the area.

Honda said its motorcycle plant in Kumamoto will also remain shut on Monday, the Yomiuri Shimbun reported.

Around 63,000 households were still without electricity by Sunday afternoon.

Japan is one of the world's most seismically active countries.

A huge undersea quake in March 2011 killed around 18,500 people when it sent a devastating tsunami barrelling into the northeast coast, and sparking a nuclear disaster at Fukushima.

This week's quakes provoked renewed debate among seismologists about the likelihood of a megaquake many expect to hit over the coming decades.

Experts predict that the so-called Nankai Trough quake could claim as many as 320,000 lives.
COMMENTS
Comments are moderated and generally will be posted if they are on-topic and not abusive.
For more information, please see our Comments FAQ