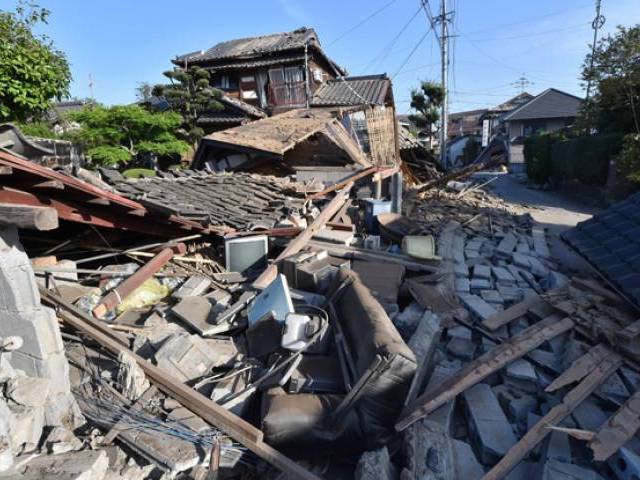 ---
TOKYO: Rescue teams on Sunday scoured the splintered remains of buildings destroyed by a series of deadly earthquakes in southern Japan which forced automaker Toyota to halt production across the country after its supply chain was hit.

A 7.3 magnitude tremor struck early on Saturday morning, killing at least 32 people, injuring about a thousand more and causing widespread damage to houses, roads and bridges.

It was the second major quake to hit Kumamoto province on the island of Kyushu in just over 24 hours.

The first, late on Thursday, killed nine people. More than 440 tremors have rocked the area since Thursday, said broadcaster NHK.

Scores trapped as Japan earthquakes toll hits 32

Three nuclear plants in the region were unaffected by the quake, but the Nuclear Regulation Authority said it will hold an extraordinary meeting on Monday to discuss the situation.

A massive 9 magnitude quake and tsunami in northern Japan in 2011 caused the worst nuclear crisis since Chernobyl in 1986, shutting down the nuclear industry for safety checks.

The first reactor to restart was Kyushu Electric's Sendai No 1, which is at one of the plants in the region hit on Saturday. The Kumamoto region is an important manufacturing hub.

Toyota Motor Corp said it would suspend production at plants across Japan after the quakes disrupted its supply chain.

Strong 6.4-magnitude quake hits southwestern Japan

Electronics giant Sony Corp said its Kumamoto plant, which makes image sensors for Apple and others, would remain suspended. All commercial flights to the damaged Kumamoto airport were cancelled and Japan's bullet train to the region suspended.

Expressways are closed in wide areas because of landslides and cracks in the road surface, hindering supplies of water and food reaching survivors.

DIGGING BY HAND FOR SURVIVORS

Rescuers on Sunday searched for dozens of people feared trapped or buried alive. In the village of Minamiaso, 11 people remain "out of contact", said public broadcaster NHK.

Rescuers pulled 10 students out of a collapsed university apartment in the same settlement on Saturday.

Second deadly quake hits southern Japan, rescuers race against time

"In Minamiaso, where the damage is concentrated, there may still be people trapped under collapsed buildings, so we are focusing our attention and rescue and search efforts in this area," Chief Cabinet Secretary Yoshihide Suga told reporters.

More than 2,500 rescuers were searching for survivors in Minamiaso, said broadcaster NHK. Overnight, rescuers digging with their bare hands dragged some elderly survivors, still in their pyjamas, out of the rubble and onto makeshift stretchers made of tatami mats.

Prime Minister Shinzo Abe said he would boost the number of troops helping to 25,000 and had accepted a US offer of help with air transportation in the rescue efforts.

Heavy rains fuelled worries of more landslides and with hundreds of aftershocks and fears of more quakes, thousands spent the night in evacuation centres. "It's full in there. There's not an inch to sleep or even walk about in there. It's impossible in there," a resident of Mashiki town said outside an evacuation centre.

Another survivor said the cleanup would be extensive. "I can't even imagine when we can start the recovery process. My home is a mess, I don't know what to do next. And all these people affected." Firefighters handed out tarpaulins to residents so they could cover damaged roofs, but many homes were simply deserted.

Around 62,700 households were without electricity, water supplies had been disrupted to more than 300,000 homes and some areas had no gas, said NHK. More than 110,000 people have been evacuated from the Kumamoto area, said Kyodo.

Troops set up tents for evacuees and water trucks were being sent to the area while television footage showed people stranded after the fall of a bridge being rescued by helicopters. The National Police Agency said 32 people had been confirmed dead in Saturday's quake.

The government said about 190 of those injured were in a serious condition.

"RING OF FIRE"

On the other side of the Pacific, Ecuador was also struggling with the aftermath of a major 7.8 quake which hit on Saturday, killing at least 77 people and sparking a tsunami warning.

Both Japan and Ecuador are on the seismically active "ring of fire" around the Pacific Ocean. Japan's 2011 quake and tsunami killed nearly 20,000 people.

The epicentre of Saturday's quake was near the city of Kumamoto and measured at a shallow depth of 10 km (six miles), the United States Geological Survey (USGS) said.

The shallower a quake, the more likely it is to cause damage. The city's 400-year-old Kumamoto Castle was badly damaged, with its walls breached after having withstood bombardment and fire in its four centuries of existence.

The USGS estimated there was a 72 percent likelihood of economic damage exceeding $10 billion, adding that it was too early to be specific. Major insurers are yet to release estimates.
COMMENTS
Comments are moderated and generally will be posted if they are on-topic and not abusive.
For more information, please see our Comments FAQ