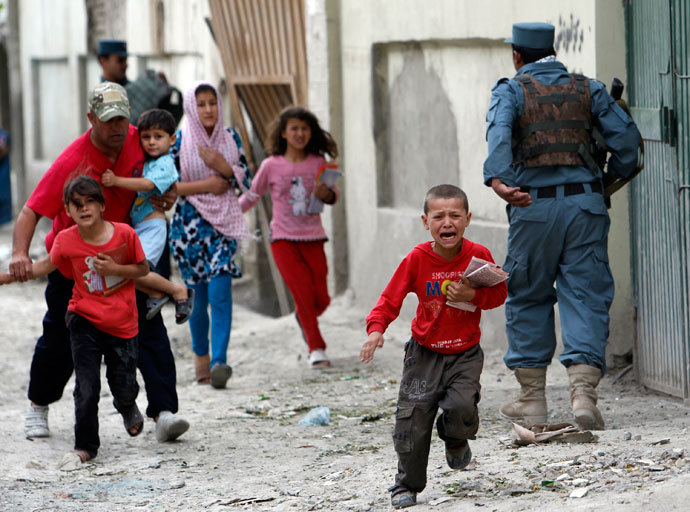 ---
KABUL: Child casualties have soared in Afghanistan this year as the Taliban stepped up attacks in urban areas, the United Nations said Sunday, branding the figures "appalling".

Between January and March, 161 children were killed and 449 others injured -- a 29 percent increase from a year earlier -- the UN's mission in Afghanistan said in a report.

545 children killed in Afghan conflict last year: UN report

Danielle Bell, the mission's human rights director, said women and children have suffered the most as the insurgents have launched more bomb attacks in populated areas.

"In the first quarter of 2016, almost one third of civilian casualties were children," said Bell in the report.

"If the fighting persists near schools, playgrounds, homes and clinics, and parties continue to use explosive weapons in those areas... these appalling numbers of children killed and maimed will continue.

"Increased fighting in populated areas continues to kill and injure women and children at higher rates that the general population."

The figures come days after the Taliban launched its spring offensive by trying to retake control of Kunduz, the northeastern provincial capital they briefly captured last year.

The militants have intensified their insurgency since the end of NATO's combat mission in 2014, launching brazen attacks on urban areas that saw last year become the bloodiest for civilians on record.

Age limit to inoculate children at Pak-Afghan border extended

In the first three months of 2016, 600 civilians were killed and 1,343 were injured, the report said. The number of deaths fell 13 percent from a year ago, while the number of injuries rose by 11 percent.

The Taliban were responsible for six out of every 10 casualties, according to the UN's report.

Last year, there were 11,002 civilian casualties, including 3,545 deaths, according to UN figures released in February.