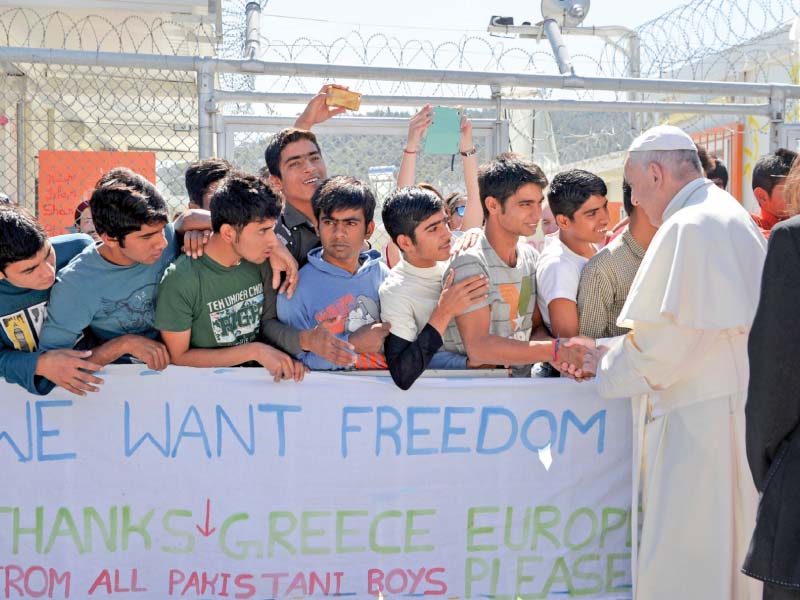 ---
LESBOS:



Pope Francis took three families of Syrian refugees back to Rome on Saturday after visiting the frontline of Europe's migrant crisis at a camp in Greece where migrants wept at his feet, kissed his hand and begged for help.




At a sprawling fenced complex on the Aegean island of Lesbos, adults and children broke down in tears before the head of the Roman Catholic Church, after their onward journey to Europe was cut short by an EU decision to block a migrant route used by a million people fleeing conflict since early 2015.

"The Pope has desired to make a gesture of welcome regarding refugees, accompanying on his plane to Rome three families of refugees from Syria, 12 people in all, including six children," a statement issued by the Vatican said. The individuals were selected from lots drawn, media reports said.

"I want to tell you, you are not alone," Francis said in a speech at the camp. "As people of faith, we wish to join our voices to speak out on your behalf. Do not lose hope!" he said.

Francis and Orthodox leaders later threw wreaths into the sea to commemorate those who died.

Francis said he admired the Greek people, saying they had "kept open their hearts and doors."  

Published in The Express Tribune, April 17th, 2016.