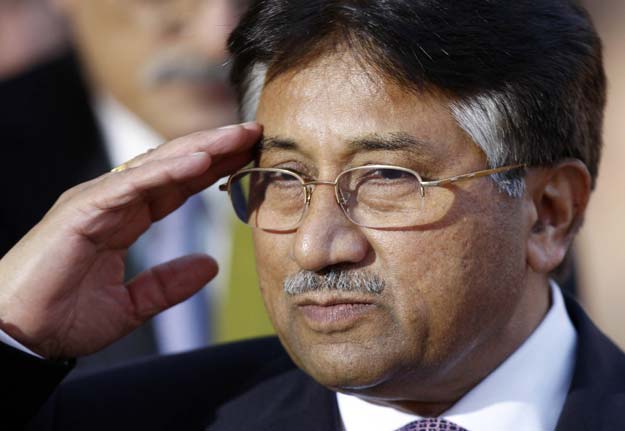 ---
ISLAMABAD:



The government on Saturday signalled its willingness to issue a 'red warrant' for General (retd) Pervez Musharraf and bring him back to Pakistan to  record his statement under Section 342 of the CrPC in a treason case.




On the direction of the Special Court, the chief prosecutor in the case, Akram Sheikh, on Saturday submitted a statement, indicating the issuance of a 'red warrant' for Musharraf to ensure his presence in the treason case.

Musharraf's non-bailable warrant : Maintainability of application to be argued

As an alternative, the statement also suggested the recording of Musharraf's statement through video link/Skype in the interest of justice under section 342.

A three-judge bench of Special Court, headed by Chief Justice of the Peshawar High Court Mazhar Alam Khan Miankhel, wanted to know why Musharraf was allowed to leave despite the existence of a summons for the accused.

He also asked all parties concerned to file their statements in this regard.

The prosecutor in his statement, filed on December 25 last year, said that he had written to the then secretary for the interior ministry to place Musharraf's name on the ECL. According to him, the FIA's investigation team had submitted its challan on November 16, 2013.

"The inquiry team apprehended that due to lack of evidence in support of his defence, General Musharraf may attempt to leave the country. Hence, an inquiry team promptly moved the interior ministry to place his name on the ECL."

The statement said that the prosecution team kept on regularly informing the federal government, which is complainant in the case, adding that an interior ministry official was present on all dates, including March 8 this year when the Special Court summoned Musharraf for recording his statement.

Arrest warrants out for Musharraf

According to the statement, the order was also disseminated widely through the press. Therefore, "there was no room for condoning the absence of the accused (Musharraf)".

The prosecutor said in his reply that the accused had given an undertaking to the Special Court for appearing as and when directed and in light of the notice, the onus to appear before the court was on Musharraf. He said that only the accused could explain why he failed to obey the court order and it was for him to file an application, seeking one-time exemption from his attendance on March 31.

He stated that the accused should have sought the court's permission to go abroad.

Published in The Express Tribune, April 17th, 2016.
COMMENTS (7)
Comments are moderated and generally will be posted if they are on-topic and not abusive.
For more information, please see our Comments FAQ