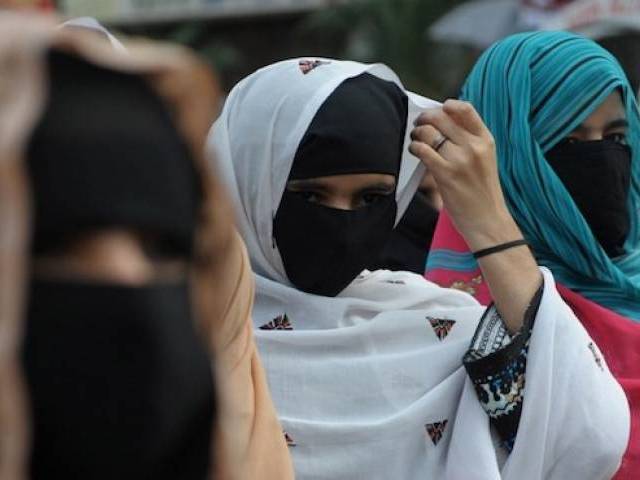 ---
ISLAMABAD:



Laws protecting women from abuse don't cause divorce. Wife beating causes divorce.




A fair point by Fouzia Saeed, and yet, one that would be considered debateable by some people — the same ones who would believe that by punishing men for using their wives as organic punching bags, the law would emasculate them.

The Saturday ILF session "Women's Protection - Yeh Bill Maangay More" saw the expected left-right schism between human rights and cultural misogyny, as some criticised the weaknesses of the bill, while others considered it too far reaching.

Moderator Khursheed Nadeem opened by speaking of how fathers and brothers sometimes treat the women of their families like cattle and will file honour killing cases against each other so that they can later forgive them and let the crime go unpunished.

Former JUI-F spokesman Jan Achakzai spoke of his surprise at the fact that women and leftist activists and political parties were not particularly supportive of laws to protect women, specifically calling out the PPP, ANP, and MQM, whose policies are supposedly left leaning. To defend religious groups' opposition to such legislation, he said, "Democracy means aggregating the interests of diverse constituencies," and "religious voters are a strong constituency".




He also spoke of how the security establishment suppressed the left in the 70's because of Soviet intervention in Afghanistan and fear of leftist sympathies with the communist country.

Council of Islamic Ideology member Samia Raheel Qazi, who is also a Jamaat-e-Islami leader, opined that the issue was being hijacked by the far left and far right, adding, "I want to be in the centre."

Her long critique of Punjab's domestic violence "bill" ended with the chair asking her for specific flaws in the law.

Justice (retd) Nasira Iqbal opened by correcting Qazi, saying, "This is not a bill. It's an act."

She then asked why the uproar began after the bill had been passed.

She also pointed to the use of scripture out of context, specifically the belief that men are above women, rather than the alternate translation that men are to always protect women. "Is a male junkie really better than an average woman just because he is a man?"

She also criticised parts of the act. "The act [in its current form] criminalises nothing and is very weak," she noted.

She also criticised right wingers for comparing ankle monitors and GPS trackers used to track stalkers with bracelets (choorian).

Scholar Arfa Sayeda Zehra said Justice Iqbal's anger was a "trait of a good adjudicator, as they are angered by defiance of the law and violations of rights".

She said men oppose 'ankle bands' (monitors) because till today, "woh aurat ka band bajatayay thay, ab un ka band bajega" (they used to wring up women, now they will be wrung up).

She also criticised the duplicity of the far right in general, referencing the "unspeakable" (and unprintable) language used by clerics at the pro-Mumtaz Qadri protest in Islamabad, which would often be "followed up by [religious language]."

"Shouldn't men of God at least be pure of heart?" she added.

Saeed, a women's right activist and the current head of Lok Virsa, said women's rights are a devolved subject, so any request from the centre to withdraw it is unconstitutional, "and opposition from parties that are not even present in the Punjab Assembly [because they couldn't win seats] is ridiculous."

She also criticised the media's sensationalised reporting on the bill.

"This law does not cause divorce. Abuse causes divorce."

Later, members of the crowd denied Qazi a chance to answer a question from the audience by drowning her out with boos, perhaps reflecting poor understanding of her right to defend her position, however much they may disagree with it.

Published in The Express Tribune, April 17th, 2016.