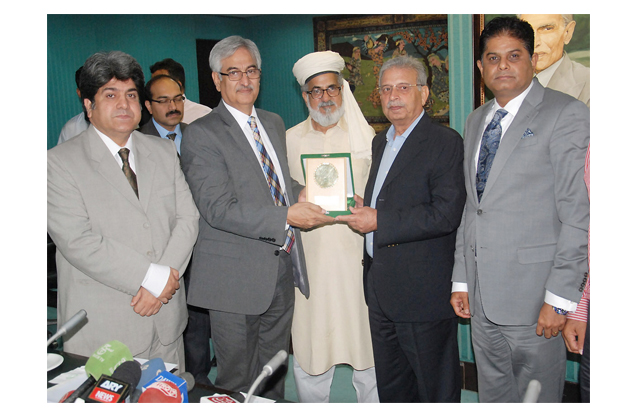 ---
LAHORE: The economic development is directly linked to research and development (R&D) and this is why its budget in Pakistan Council of Scientific and Industrial Research (PCSIR) is being increased from Rs65 million to Rs250 million, said Federal Minister for Science and Technology Rana Tanveer Hussain.

While speaking at the Lahore Chamber of Commerce and Industry (LCCI), the minister said that all resources were being utilised to promote the research culture in Pakistan so that the country could join the club of the 'technologically-advanced nations.'

"Low allocations for vital sectors like science and technology has kept the country dependent on the developed world," he remarked, adding that the government must focus on need-based and result-oriented research to save valuable time and money.

He informed the participants that a 'Common Facility Centre' had been established at the Sialkot Chamber of Commerce & Industry (SCCI) which would provide one-window facility to businessmen.

Meanwhile, LCCI Senior Vice President Almas Hyder said that technology commercialisation, development of standards for quality control, accreditation, education and effective linkages between industry and academia were key functions of the Ministry of Science and Technology. However, the performance indicators of all the organisations working under the ministry needed to match with the requirements of modern era.

"Pakistan has yet to be placed at some respectable position in the innovation index. Even after more than six decades of its creation, the country remains a producer of primary commodities," he said and added that in view of current resource constraints, there was a need to utilise the existing resources optimally via reorganising our R&D infrastructure and moving towards knowledge economy.

He said that new technology parks are set up globally  to spread the fruits of science and technology but, unfortunately, the idea could not gain much popularity in Pakistan.

"Pakistan has to support research. Japan made its universities join hands with the industry while the government contributed directly to economic activity through technology transfer. China and India followed their footsteps."

Published in The Express Tribune, April 17th, 2016.

Like Business on Facebook, follow @TribuneBiz on Twitter to stay informed and join in the conversation.