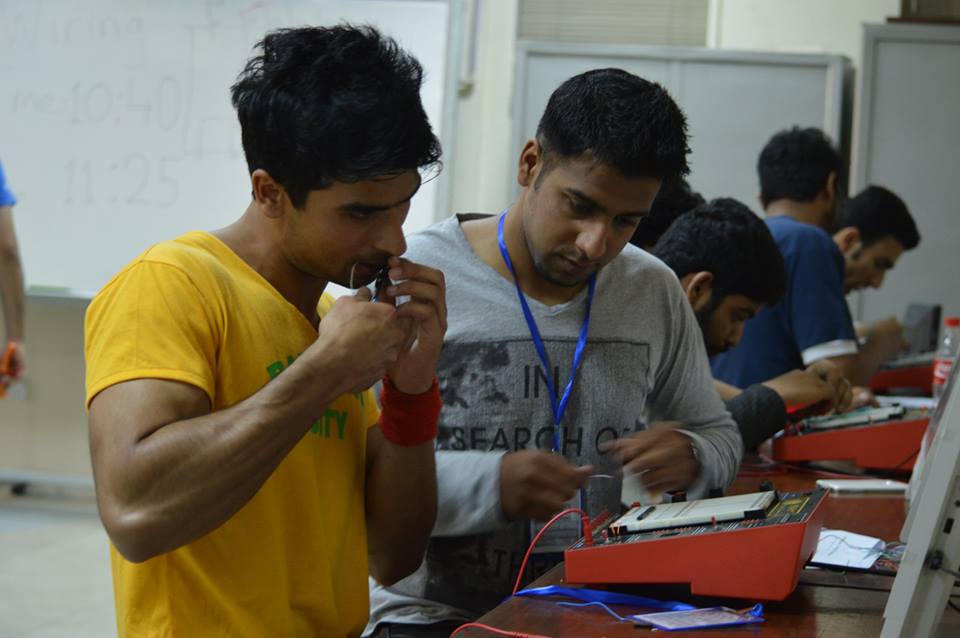 ---
LAHORE: Students showcased their innovative work, including robots and web applications, during the two-day IEEE Week 2016 that concluded at the National University of Computer and Emerging Sciences (FAST) on Saturday.

The event, organised by the FAST chapter of Institute of Electrical and Electronics Engineers (IEEE), featured 17 competitions involving students from all over the country. Several workshops were also held.

Speaking to The Express Tribune, Usman Maqsood, the IEEE executive body vice chairperson, said that it was the largest competition of its kind in Pakistan. He said the event had been organised by FAST students from the IEEE executive body, namely Ozair Ali Khan, the chairperson; Bilawal Iqbal, the treasurer; and Danyal Saeed, the general secretary.

He said the competitions included Professional IQ Quiz, Startup Competition, Spell the Word, Robo Race, Speed Wiring, Math Quiz Under 19, OOD Competition, Speed Soldering, 100 Minutes of Code, Robo Navigation, Project Competition and Robo Wars. Gaming competitions and entertainment eve were part of the event, he said.

He said workshops were held on Mean Stack, GSM, Image Processing, PLC, Ruby on Rails and Enterprise App Development. "The purpose was to educate the participants about technologies being used in the industry worldwide. They were also educated about various applications."

Students from the University of Faisalabad had showcased a project for the visually-impaired that used real-time picture processing to guide a user about obstacles.

According to team members, the device, made up of four parts, used vibrations to tell the user about obstacles in his way. They said it was just a prototype and that they were working on an improved version which would be able to detect faces, and allow the user to save the names.

They said whenever the device spotted a person stored in its memory, it would alert the user about him. They said the device would help improve the quality of life of the visually impaired.

Infogistics CEO Sajjad Kirmani and Punjab Higher Education Commission (PHEC) Chairman Dr Nizamuddin were the guests at the inauguration of the event on Friday.

Published in The Express Tribune, April 17th, 2016.
COMMENTS
Comments are moderated and generally will be posted if they are on-topic and not abusive.
For more information, please see our Comments FAQ