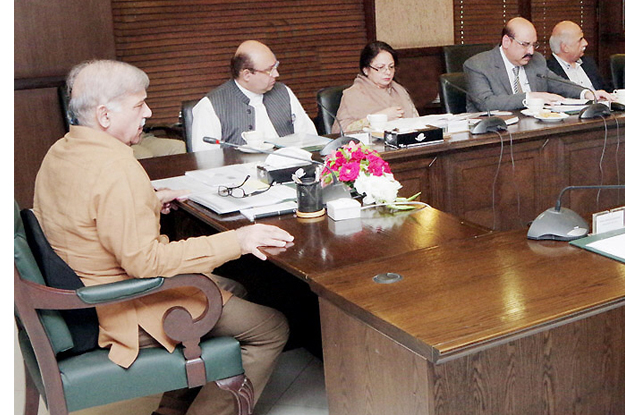 ---
LAHORE:



The Orange Line Metro Train Project will change the transport culture in the province, Chief Minister Shahbaz Sharif said on Saturday.




He was presiding over a meeting to review ongoing development projects in the province. "Provision of modern and speedy transport facilities to the people is the top priority of the government," he said.

He said that maintaining standards and transparency in all development projects was the government's policy. "Timely completion of development projects is being ensured. Special attention is being paid to the development of backward areas," he said.

The CM said that people had greatly benefited from mega development projects that had been completed in the province. "Work is being carried out speedily on public welfare projects costing billions of rupees in education and health sectors. Projects such as the Daanish School, the Punjab Educational Endowment Fund and free laptops have had a positive impact on education sector," he said.

The chief minister said that the funds saved through austerity and economic discipline were being spent on the welfare of people. "Resources of the nation are being spent on projects aimed at minimising the gulf between the rich and the poor. It is the responsibility of government departments to ensure timely completion of development schemes. A third-party audit policy is being carried out for ensuring transparency in development projects," he said.

Ministers Mujtaba Shujaur Rehman, Ayesha Ghaus Pasha, Adviser on Economic Affairs Dr Ejaz Nabi, the chief secretary and the Planning and Development Board chairman attended the meeting.

Federal ministers meet CM

Federal Ministers Lt Gen (r) Abdul Qadir Balouch and Rana Tanvir Hussain separately called on the chief minister on Saturday.

"Work is being carried out speedily on the China Pakistan Economic Corridor projects. The CPEC will prove to be a game-changer for Pakistan. The destiny of the country will change with the completion of these projects," the CM said.

The chief minister said that undue criticism of public welfare projects amounted to opposition to the development and prosperity of the people.

"There is no room for terrorism, extremism and sectarianism in Pakistan. Setting up of a society based on tolerance, harmony and brotherhood is the mission of the government," the CM said.

Published in The Express Tribune, April 17th, 2016.