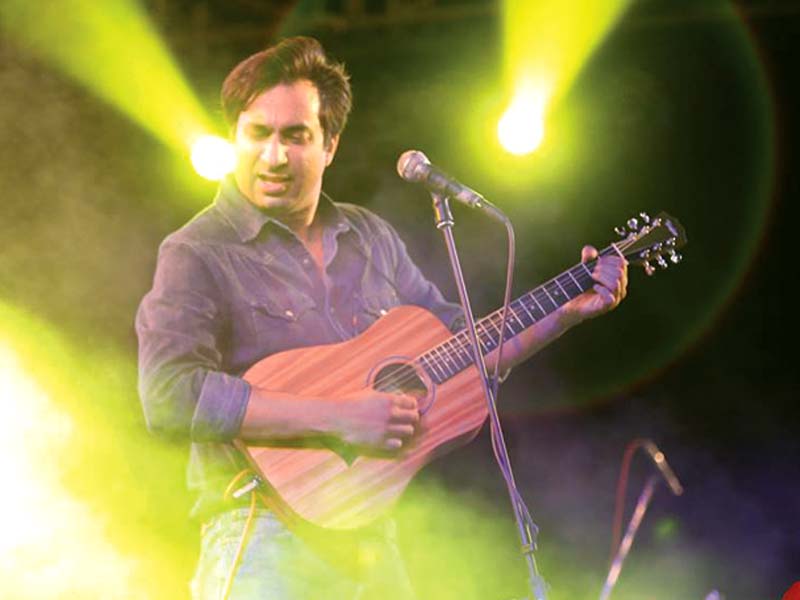 ---
HYDERABAD:



Pakistan today may not have an impressive leftist political movement, but the region's intellectual elite have historically aligned themselves with those who dream of a free, tolerant and just world.




While they have always been embedded in our collective consciousness, Faiz Ahmed Faiz and Habib Jalib made a comeback, at least for our generation, round about the time when a military dictator drove the chief justice out of office. The Lawyers' Movement of 2007 needed the locomotive of agitation — revolutionary music — to keep it going against the unjust system. This was exactly when Laal stepped up and in the words of its front man Taimur Rahman, today stands as the only "communist band" of the Indo-Pak region.

"Music with political inclination and strength to engage the masses has always been there in the country. We had just revived it and made it made more mainstream," said the musician who teaches politics to undergrad students when he is not playing the guitar. Citing examples of Beygairat Brigade's "anti-establishment music" and Ali Gul Pir's Waderai Ka Beta that questions social dynamics, Rahman said Pakistani musicians are more socially conscious. "Pakistani music is more politically-engaged than that of any other country. Whenever I go to India, they lament that they do not have a band like Laal."

Amn Mela: With music, songs and dance, tributes paid to Faiz

Rahman shared he and his comrades had worked for more than a decade before they were given mainstream media coverage. "We have worked really hard to make our band a success and to disseminate revolutionary ideas through music and take the movement ahead. I have taken a year-long sabbatical from the university where I teach. During this time I will go to every nook and corner of Pakistan with my band and perform to counter religious extremism and advocate socialism," he said. The launch of a third studio album will precede the tour, Rahman said. "All arrangements are done and we are just finalising things for this tour," he said with a passionate smile.

Apart from the music, Laal has also started a graffiti campaign, painting pictures of fallen progressives of the country on walls. So far, 10 districts of Punjab have been covered.

Fight the claustrophobia, resist through art

Romance and resistance

Drawing an outline of the Pakistani communist horizon, Rahman goes on to recount the heyday of radical art and literature when the country's finest artists, writers, musicians and celebrities were either part of or affiliated in one way or another with the Progressive Writers Association, which was commonly dubbed as the mouthpiece of the Communist Party of Pakistan.

"People remember Nayyara Noor and others who sang progressive songs during that time but they are unaware of today's communist music and for that purpose we have done a remake of Intesab which is dedicated to all sacrifices hitherto given for a progressive Pakistan," he said.

The singer revealed that he has collaborated with Arieb Azhar for the project and will release it in the name of Sabeen Mahmud, Parveen Rahman, Shahbaz Bhatti, Salman Taseer, and communist leaders Hassan Nasir and Nazeer Abbasi. "Arieb was taken on board because he too is a progressive artist and his voice has a striking resemblance with that of Shoaib Hashmi who had recited Intesab in Nayyara's song," said Rahman. The single will be out on Sabeen's death anniversary.

The young activist

By the time he had enrolled in college, Rahman had forgotten the Marxist ideas he had grown up and had prioritised more mundane things in his life. Reading Marx and Engels once again gave him his objective in life. "For a while I had abandoned the guitar, an instrument I was playing since I was a kid. I considered it a bit bourgeoisie. I used to be an ultra-leftist then," he laughingly recalled. But music too returned to his life at the right time. "One day I picked it up again and vowed to spread communist ideas with the instrument."

The young activist soon turned into a university professor but never again did he drop what he had picked up. Music is a vivid part of his lectures and his public life as an activist.

Published in The Express Tribune, April 17th, 2016.

Like Life & Style on Facebook, follow @ETLifeandStyle on Twitter for the latest in fashion, gossip and entertainment. 
COMMENTS (3)
Comments are moderated and generally will be posted if they are on-topic and not abusive.
For more information, please see our Comments FAQ