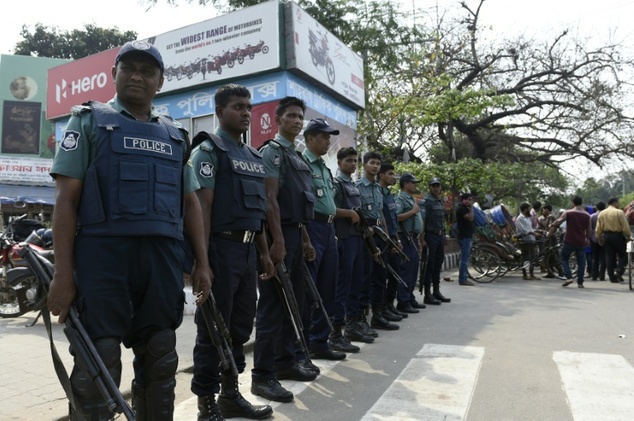 ---
DHAKA: Bangladesh police on Saturday arrested a well-known magazine editor for sedition, officials said, the latest in a series of detentions of pro-opposition journalists that has sparked fears of a crackdown on the press.

Three plain-clothes officers entered 81-year-old Shafik Rehman's home in Dhaka in the early morning claiming to be from a private television station and took him away, his wife Taleya Rehman said.

Bangladesh ex-PM Zia ordered in court on sedition charge

Police later announced Rehman, who is also a British citizen and was formerly a speechwriter for the Bangladeshi prime minister's arch-rival, had been arrested for sedition.

Officers also said they had found evidence linking the editor to a conspiracy to murder Prime Minister Sheikh Hasina's son, Sajeeb Wazed Joy.

"He has been arrested over sedition charges filed by police in Dhaka in August 2015," police spokesman Maruf Hossain Sorder told AFP.

Police found "connections in a conspiracy to abduct and murder" the premier's son, according to M R Khaled, a deputy police commissioner.

Rehman is the third pro-opposition editor to have been arrested by the government of Hasina, triggering repeated calls by rights groups for their release.

Two other top journalists, who edit the country's leading Bengali and English newspapers, have also been charged in criminal lawsuits including dozens of defamation and sedition cases.

Rehman was a long-time editor of Jai Jai Din, a mass-circulation Bengali daily. He now edits a popular Bengali monthly magazine called Mouchake Dhil.

Indian student arrested for sedition released from jail

He previously served as a speechwriter for opposition leader Khaleda Zia, a two-time former prime minister who is involved in a deeply bitter ongoing feud with the current premier.

In recent months, Rehman became the convenor of the international affairs committee of Zia's Bangladesh Nationalist Party (BNP) and headed a pro-opposition think-tank named G-9.

Last week, Bangladesh's high court suspended 72 defamation and other criminal lawsuits filed by government supporters against Mahfuz Anam, the editor of The Daily Star newspaper, over a challenge to their legality.

Human Rights Watch is among those which have slammed the lawsuits against Anam, saying they "are part of a larger, organised assault on independent media".

It comes amid widening fears for freedom of speech in the Muslim-majority nation, which has seen a spate of Islamist killings of secular bloggers and publishers.