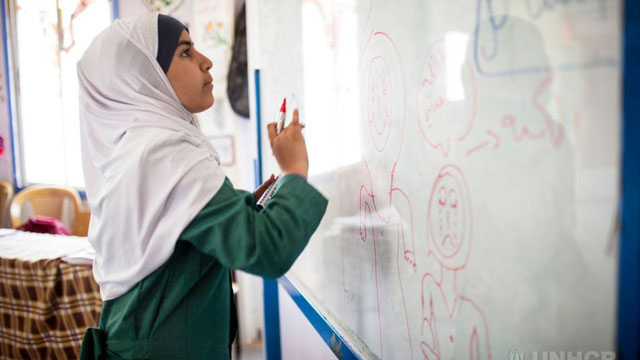 ---
Inspired by Malala, a 15-year-old Syrian girl is campaigning against child marriage, offering drawing and acting classes to her contemporaries at a refugee camp in Jordan.

Over the past few years at the the Za'atari  camp, which houses 80,000 refugees, Omaima has seen many of her schoolmates disappear and forced into marriage by their parents.

When her best friend was married off before she turned 14, Omaima – who is inspired by Malala Yousufzai – decided that she had to do something.

"I could see their pain, so I started out just offering simple advice — that early marriage is bad for you and for your mental and physical health. But I soon realised that advice was not enough," Omaima said.

Determined to help other girls, Omaima sought out information on the risks of early marriage and started organising activities such as drawing, lectures, plays and singing to highlight its dangers.

"Their bodies are not ready for childbirth, and emotionally they are not ready to be wives and mothers," she added.

The minimum age of marriage in Jordan is set at 18 years. However, religious judges (Sharia) may give approval to marriages involving children as young as 15.




"Often I and others will go with girls to speak to their families, and they tell us it's none of our business. Usually they are very polite, but fathers especially can sometimes be strict. I find it easier to convince the mothers and then they can influence their husbands," Omaima said.

Despite challenges, Omaima said she has persuaded lots of future child brides and their families to give up on early marriage.

Curbing child marriages

Talking about one of her friends she dissuaded from an early marriage said: "One of my friends got engaged and told me she would soon get married and never see us again."

Omaima went on to say, "She wanted to get married, but my friends and I got together and told her she was making a mistake and should continue her education. Eventually we persuaded her to ask her family to call off the engagement and now she is back in school with us."

Encouraged by her parents and working with local activists Omaima wants to keep fighting against early marriage and violence against women.

"My dad tells me that I started something good and I should continue what I am doing," she said, adding, "I want to go to university and study to be a lawyer so that I can defend the rights of women and girls."

Speaking of Malala, Omaima said:  "My mum brought me Malala's book, so I've read all about her life and work. She is a great person and very inspirational."

"I would love to meet her one day, and I wish all the girls in the world could be like Malala," she stated.

This article originally appeared on Mashable.