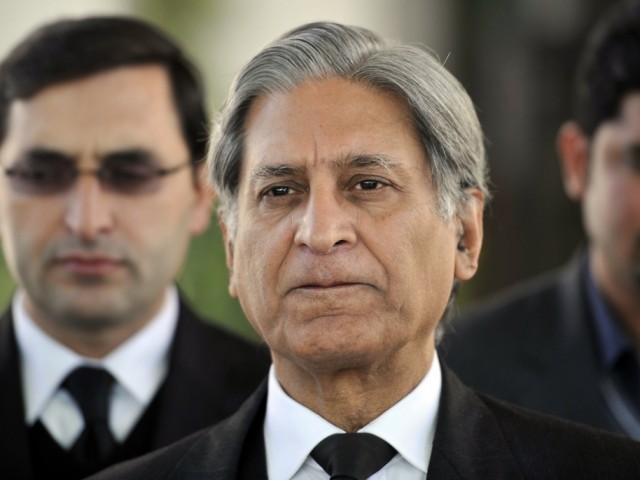 ---
LAHORE:



Senior Pakistan Peoples Party's leader Aitzaz Ahsan said on Friday that he expects all opposition groups to come closer in the coming months and possibly even form an alliance against the government if it refuses to carry out a forensic audit of the offshore businesses of the prime minister's family in the wake of the Panama Papers.




"The opposition parties have developed a consensus on the one-point agenda of the forensic audit through an international audit firm in light of the Panama Papers' leaks," he said in an exclusive interview to Daily Express. The Panama Papers, a trove of over 11.5 million documents, have revealed that Prime Minister Nawaz Sharif's three children were among the thousands of wealthy people from across the globe, who secreted their money in offshore companies.

Aitzaz revealed that the prime minister had approached the PPP President Asif Ali Zardari for a meeting. "However, Zardari has categorically refused to meet the prime minister and the decision not to meet him is final."

The ruling PML-N, according to Aitzaz, is trying hard to establish some back channel contact and Finance Minister Ishaq Dar is actively trying to negotiate between the two parties. "However, Zardari is firm  on his stance," he said, adding that the PPP had suffered damage due to its support for Nawaz in the past.

He said the money used to buy apartments in London's Mayfair neighbourbood must have been transferred from some place and through some banks.

"This monetary trail can be figured out by a forensic audit firm but NAB cannot possibly unravel the transactions by traveling to Panama or London," he said.

Aitzaz claimed the money was not generated by the Sharif family in London. "It is on record Nawaz was paying zero income tax in 1994-1995 when the Mayfair apartments were bought."

"The four apartments cost around Rs11 to Rs12 billion now," he added. The PPP leader said World Bank's Stolen Assets Recovery Initiative (StAR) could be used to find out how the capital was transferred and whether it was legal or not.

"Government can get an investigation through World Bank's StAR programme."

Published in The Express Tribune, April 16th, 2016.
COMMENTS (4)
Comments are moderated and generally will be posted if they are on-topic and not abusive.
For more information, please see our Comments FAQ