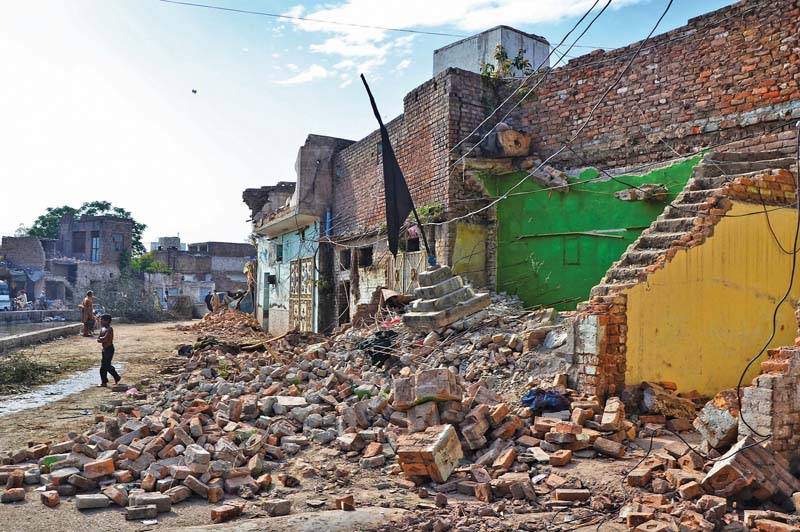 ---
PESHAWAR: Residents of Imamia Colony Peshawar blocked GT Road on Friday in protest against the encroachment drive in Gulbahar.

Demonstrators, including women and children, carried posters and black flags and criticised the government and the city district government for demolishing "everything". They complained extended structures were removed even from places of worship, including an Imambargah.

Protesters accused the city district administration, Peshawar Development Authority, and irrigation and communication departments of destroying their religious sites.

Official complaint

Protesters blocked GT Road for almost an hour, choking the flow of traffic. They also protested in front of Gulbahar police station and submitted a written application against their properties being demolished. Imamia Colony residents said if the police will not register an FIR against the government departments responsible they will take the matter further.




One of the protesters, Akhundzada Muzafar Ali Syed said, "The government demolished our place of worship – we oppose the government's dismantling properties which serve the public without prior notice."

The protest came to an end after successful talks between government officials and elders from the colony.

Tear it down

Around 2,000 reportedly illegal buildings and shops were demolished by the city district administration. A major crackdown against encroachments started on April 9. Illegal structures including mosques, Imambargahs, shops and markets were demolished on Kohat, Dalazak, Bara roads and in Pishtakhara and Gulbahar.

Additional Deputy Commissioner Irshad Sodhar supervised the drive. He told The Express Tribune, "Our second encroachment drive started on April 9. We stopped the campaign as we were waiting for local government representatives and other stakeholders to participate willingly." Sodhar added, "Now with their permission, we have demolished almost 2,000 buildings including shops, markets, Imambargahs and mosques." He said, "We want to make Peshawar a model city."

According to the ADC, "At least 60 illegal structures were demolished in Gulbahar on Thursday. Now we are also going to clear the canals."

He said people should avoid obstructing the flow of canal water. "So many illegal structures have been constructed on Kabul River canal; cleanliness has become almost impossible."

He said the next mission was to remove the encroachments from Banamarhi on April 17.

Published in The Express Tribune, April 16th,  2016.