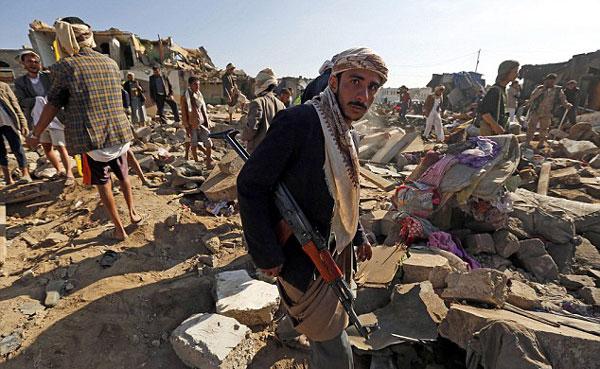 ---
ADEN, YEMEN: Yemeni forces backed by Apache helicopters from a Saudi-led coalition wrested the city of Houta from al Qaeda fighters after a gun battle on Friday morning, a local military official said.

Hours later, a car bomb detonated outside the foreign ministry in the southern Yemeni city of Aden, causing no casualties, another local official said. Islamic State claimed responsibility in a posting on its al-Amaq news agency website.

The recapture of Houta, regional capital of southern Lahj province which has been held by the militants since last summer, is one of the embattled Yemeni government's most important inroads yet against al Qaeda forces who have taken advantage of more than a year of war to seize territory.

Yemen ceasefire holding despite rebel breaches: general

Government troops began their attack at daybreak and succeeded after several hours of air strikes and heavy combat, the military official told Reuters. "The campaign to control Houta has been completed and it has been cleansed of al Qaeda and extremist elements," he said.

Several people were killed and injured on both sides and 48 militants were captured, he added. Saudi Arabia and its mostly Gulf Arab allies entered Yemen's civil war on March 26 last year in support of Yemen's internationally recognised government after it had been pushed into exile by the Iran-allied Houthi group.

Amid impoverished Yemen's security chaos, Al Qaeda in the Arabian Peninsula (AQAP) seized the port city of Mukalla and extended its area of control and influence about 600 km (370 miles) along Yemen's southern coast toward the government seat at Aden.

Rebels kill 13 Yemen loyalists despite ceasefire

Forces loyal to President Abdu-Rabbu Mansour Hadi have been repeatedly attacked by al Qaeda and Islamic State militants as the embattled administration struggles to secure Aden and the southern provinces where the fighters thrive.

A Reuters investigation this month revealed that the group earns up to $2 million every day by taxing imports of basic goods and fuel. Until the attack on Houta, AQAP has suffered few territorial losses despite a stepped-up American campaign of air strikes and drone attacks on its bases.