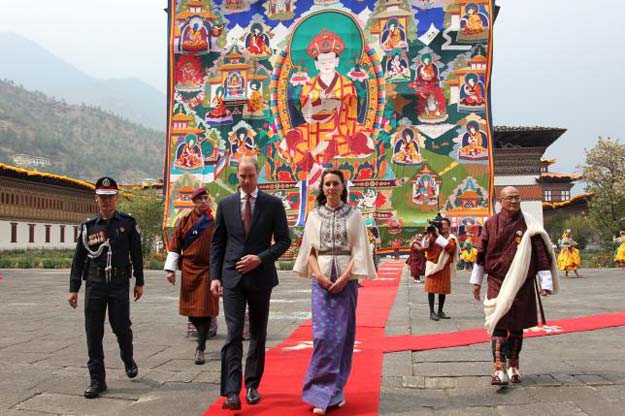 ---
PARO VALLEY, BHUTAN: Britain's Duke and Duchess of Cambridge trekked on Friday to a Buddhist monastery on a mountainside in Bhutan, going one better than the duke's father, Prince Charles, who on a 1998 trip broke off his hike to paint a watercolour.

Prince William and wife Kate dressed down for the three-hour expedition to the so-called Tiger's Nest that is perched on a mountainside at 3,000 metres (10,000 feet).

Prince William may still be reeling from Modi's iron grip

Kate's outfit featured knee-length boots, olive trousers and a leather waistcoat, while William wore an open-necked shirt and beige slacks. The couple stopped along the way to smile for the cameras before the backdrop of the 17th century Taktsang Palphug Monastery across the Paro valley.

Air apparent

Porters were on hand, including one with an oxygen cylinder, but the couple - William is 33, Kate a year older - managed without difficulty as they walked hand-in-hand through sunlit wooded uplands.

The royal couple finally got some time to themselves on the sixth day of their hectic tour of India and Bhutan, where they were welcomed on Thursday by the young - and equally glamorous - king and queen of the tiny Himalayan nation.

On Saturday, they return to India to visit the Taj Mahal, which was built in 1632 by Moghul Emperor Shah Jahan in memory of his favourite wife.

Kate Middleton's flying dress coverage sparks Twitter outrage

William's mother, the late Princess Diana, visited in 1992 and was memorably photographed sitting alone on a bench on front of the marble mausoleum, in an image that came to symbolise her unhappy marriage.

Indian newspapers have reported that the British High Commission had asked for scaffolding, erected for repair work, to be removed from the onion-domed Taj Mahal. The Archaeological Survey of India turned down the request.

There are also concerns that the site may be overrun by tourists when William and Kate are there, as it only closes for visits by heads of state or government. The British High Commission in New Delhi did not reply to a request for comment.

There has been fierce competition among news organisations trying to secure the best spot on a viewing platform for the "money" shot of William, second in line to the throne, and Kate.