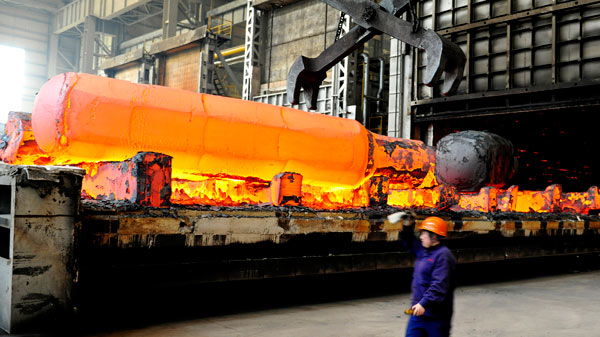 ---
BEIJING: Chinese steel output rose in March, official data showed Friday, despite repeated pledges by the world's top producer to cut capacity as the worldwide industry languishes under a global glut.

Production increased 2.9 percent last month from a year ago to 70.65 million tonnes, figures provided by the National Bureau of Statistics (NBS) showed.

Chinese imports hurt Pakistan's men of steel

The figure marked the highest monthly output ever, Bloomberg News reported, citing Beijing Antaike Information Development Co., a state-owned researcher. The rise was the first since December 2014, NBS data showed.

China has come under political pressure to cut production with Tata Steel putting its loss-making British operation up for sale, leaving thousands of jobs at risk

China bank lending rebounds strongly in March

European steel manufacturers have called for protection from cheap imports from lower-cost producers in China, although the EU has moved more slowly than the United States in imposing tariffs.

Chinese steelmakers are similarly plagued by severe overcapacity and huge losses, with many domestic steel plants reducing production or suspending operations in 2015, when annual output declined 2.3 percent on-year.

The State Council, China's cabinet, in January set a target to further cut output by up to 150 million tonnes. Previous Chinese media reports said the reduction is expected to be done over the next three years.

The government has also said it will shed 500,000 steel jobs in coming years.

Production cuts at the end of last year have lifted world steel values, and iron ore prices have risen 36 percent this year, according to the Bloomberg report.

But the price recovery will be short-lived as output increases and traders end a flurry of restocking, it said, citing HSBC analysts.