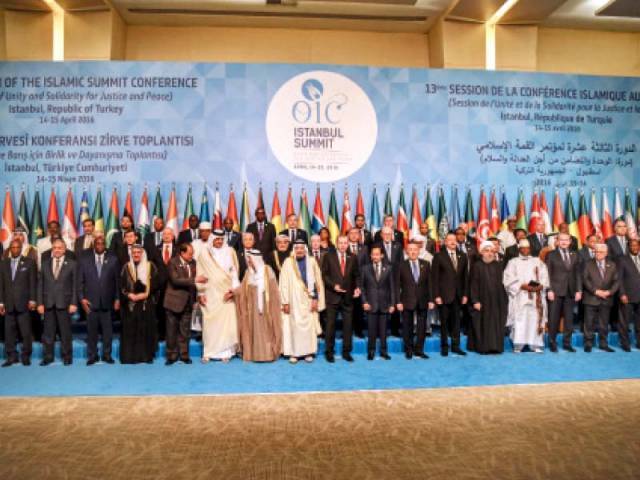 ---
ISTANBUL: Turkish President Recep Tayyip Erdogan was on Friday wrapping up a two-day summit of leaders from the world's Muslim countries aimed at narrowing bitter sectarian divisions over crises including the Syria and Yemen conflicts.

Leaders at the summit of the Organisation of Islamic Cooperation (OIC) in Istanbul include King Salman of Sunni power Saudi Arabia and President Hassan Rouhani of Shiite Iran whose countries are pitted on opposing sides in Syria and Yemen.

But with Turkey seeing the summit as a chance to shore up its prestige in the Islamic world, Erdogan has made it his mission at the meeting to bring the world's 1.7 billion Muslims closer together.

Turkey seeks to heal Muslim wounds at Istanbul summit

He reaffirmed his call for unity at an official dinner late Thursday in the Dolmabahce Palace by the Bosphorus, where the late Ottoman Sultans ruled a decaying empire of Muslim lands that once stretched from from the Balkans to Arabia.

"At this summit, our biggest expectation is for Islamic countries throughout the world to give a message of unity and togetherness to all Muslims," Erdogan told leaders beneath the dome of the vast Muayede Salon, the ceremonial hall where the Sultan would receive visitors.

"Our aim is to give the whole Islamic family hope in the future. God willing, with this summit, a new era will begin for all of us."

"Of course the problems in front of us are big. We are going through a tough period. But we should never lose hope," he added.

Muslim body to focus on Palestinians, terror at Turkey summit

Erdogan, whose country now holds the chairmanship of the OIC for the next two years, was due to chair the last sessions of the summit Friday before holding a news conference.

The meeting has been marked by signs of a strong emerging alliance between Turkey and fellow Sunni Muslim power Saudi Arabia, whose foreign ministers Thursday signed a memorandum on creating a bilateral cooperation council.

Both countries, along with the tiny but gas-rich Gulf state of Qatar, back rebels fighting the regime of President Bashar al-Assad in Syria.

This pits them against Iran and also Russia -- with whom Turkey is experiencing a crisis in relations after the downing of a Russian warplane -- who are the last major remaining allies of Assad.

Analysts have warned Turkey needs to tread carefully in its alliance with Saudi Arabia, so it is not seen as a sectarian union aimed at Iran.

In a sign of Ankara's desire to maintain a delicate balance, Rouhani is due to begin a bilateral visit to Turkey immediately after the summit.