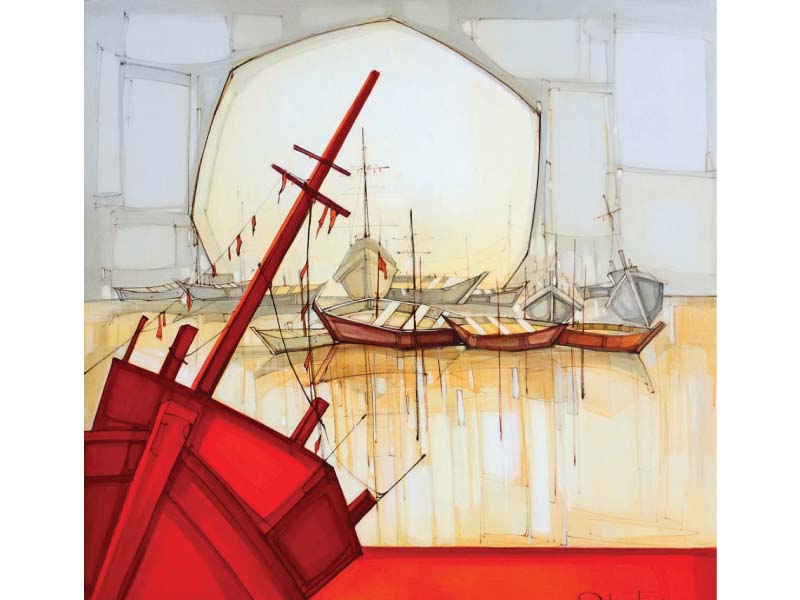 ---
KARACHI: "No matter what era of history you look at, it is the sea and the city's dhows that have always defined Karachi's nature, culture and importance."

Artist Salman Farooqi's statement explains the inspiration behind his exhibition, titled 'Dhows of Karachi', being held at Art Citi Gallery.

Karachi, the city of his birth, has remained a key feature in his works. Katchi abadis and modern landscape of the city of lights are some of the themes that have inspired his work before too.

The artist has been mentored by painter Eqbal Mehdi. Farooqi then enrolled in Karachi School of Arts and graduated with distinction in 2004.

Even though the artist claims that he doesn't bound his work with themes and topics, this particular acrylic on canvas work focuses on dhows (traditional sailing vessel) alone. Dhows and double-masted boats, which often have triangular sails, are subject matters of the past and current landscape of Karachi in Farooqi's work.

Farooqi's paintings are vibrant, cheerful and visual treat to the eyes.  Like pages of a children's book, the finishing appears defined and lustrous.  "There is no philosophy. I want my work to visually appease the people," he said. To achieve that the colour quality, drawings and the overall composition have to be in sync, he added.

Another prominent feature in his canvases is the recurrent appearance of yellow colour. Appearing as a backdrop in the landscape of trees or inside planks of boats, it brings out the vivacity and has an olden feel to it, comparing it to yellow pages of old books.

It is also interesting to see the presence of boats on the shore as they are being reflected in water base. The water is not blue yet it has a crystal-like appearance, perhaps indicative of the days when Karachi's port was not as murky and polluted as it is now.

"The very rich history of our beautiful Karachi dates back to the ancient Greeks. To them this city was known by many names. It was called "Krokola" and "Morontobara" during the time of Alexander the Great. It was renamed as "Debal" from where Muhammed Bin Qasim led his conquering force into South Asia in 712AD. Many years later it was officially "founded" as "Kolachi" by Baloch tribes from Balochistan and Makran," quotes Farooqi in his statement.

Elaborating on his statement, Farooqi pointed out that his work should not only be viewed from a historical context. "The boats have represented Karachi from the time they were discovered to what they are today," he explained.

Today is the last day of the exhibition.

Published in The Express Tribune, April 15th, 2016.