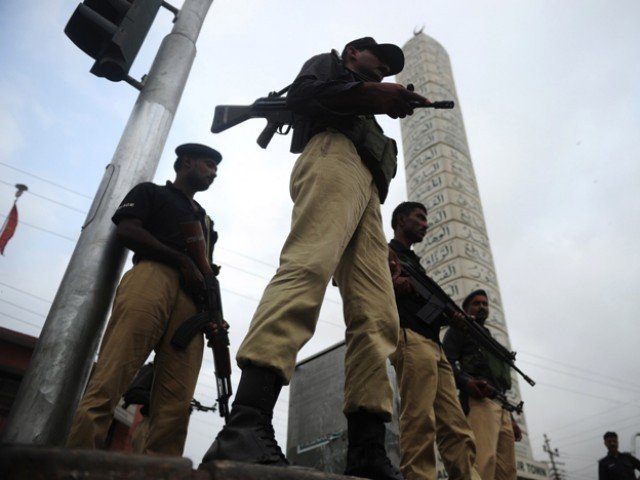 ---
KARACHI:



Every police station in the city will welcome you with the words 'Police ka hai kaam, khidmat awam ki [The job of the police is to serve the people]'. Policemen in the city are no doubt serving. But instead of serving the people, the police are serving people to kidnappers.




Over a dozen policemen were found involved in kidnapping cases last year. So far this year, 10 policemen have been booked in over a dozen kidnapping cases.

Police arrest foreign-based gang involved in extortion, killings of doctors in Karachi

Blatant abuse of power

One of the more blatant abuse of power occurred in November last year when police officials kidnapped three men using police vans and locking them up at the police station. The involvement of the policemen came forth in an internal inquiry conducted by Counter-Terrorism Department (CTD) Intelligence SSP Amir Farooqui.

A citizen complained that Saddar police station SHO Naeem Khan along with other policemen - head constable Amir Khan, who is posted at Police Headquarters in Garden, head constable Nadeem Ahmed Khan of CTD's Transnational Terrorists Intelligence Group and political activist Mohammad Sohail - had kidnapped three men, Faisal Shahid alias Sagar, Imran Shabbir and Agha Islam and released them after getting ransom.

"They kidnapped us on the night between October 14 and October 15, 2015, from our homes in Landhi," recalled one of the victims, Faisal Shahid. "They picked us up on police vans belonging to Saddar police station and later kept us detained inside the SHO's room until they received the ransom money."

A case was registered against these policemen and they were arrested but that is all the progress made in this case. "Nothing happened and the case is still pending," said the accused SHO. "I was not involved [in the kidnapping]," Khan insisted. "But some senior police officials framed me in the crime just to show how efficient they are."

SHO, police officials kidnap three men for ransom in Karachi

Deep roots of network

In mid-January this year, ASI Muhammad Akram of the Pakistan Bazaar police station was arrested along with eight accomplices for their alleged involvement in kidnappings.

The gang members, who used to pose themselves as CTD officials when kidnapping people, were active for the past one month before they were arrested. The Rangers busted the gang during a raid in Gharibabad and seized four sub-machine guns, seven bullet-proof jackets and the police van. In the aftermath, the Pakistan Bazaar SHO was removed from his post over negligence since ASI Akram was posted at his police station.

"I confessed that I was involved in kidnapping for ransom but senior police officers are also involved," claimed ASI Akram, who refused to name the senior officers. "Action should also be taken against senior police officials who are getting their share from the ransom money."

For their part, high-ranking police officers insisted their supervision and monitoring system is very efficient. "They [policemen] were involved in organised crimes before," admitted districts Central and West police chief DIG Feroz Shah. "Since organised crime has been eliminated in Karachi, the cops are now resorting to such criminal activities," he told The Express Tribune. "When they attempt any such criminal act, they are exposed and we are punishing them according to the law," he assured.

Published in The Express Tribune, April 15th, 2016.