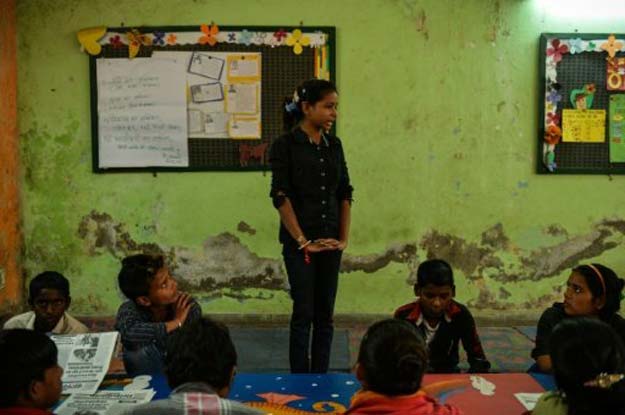 ---
NEW DELHI: As one of New Delhi's thousands of street children, Jyoti Kumari knows more than most about the goings on in the Indian capital's desperate and sometimes brutal underbelly.

Now the 16-year-old, who has never stepped foot in a regular classroom, is putting her knowledge into print, reporting for a tabloid run by street kids and tackling tough issues facing the city's homeless.

At a meeting around a table strewn with drafts of stories and diaries, Kumari and other children as young as 13 are busy planning their next edition.

Ray of hope: A university professor's struggle to teach street children

"We have 70 reporters now," a beaming Kumari said of her colleagues at Balaknama newspaper, meaning voice of the children in Hindi.

"We collect all the reports, verify them and then one of us types it out. After finalising which news will go on which page, we send it for printing."

The newspaper draws its stories from the mass of families and others living under flyovers and on footpaths, and delves into issues of child marriage, sex and drug abuse and police brutality. Kumari hopes it is quietly making a difference.

"Like when the drunkard neighbourhood uncle mended his ways once his misbehaviour with his wife and children made it to the paper," said Kumari, giggling at the memory.

One of their biggest stories exposed how policemen used street children to carry bodies from railways tracks after a deadly accident or a suicide, forcing authorities to halt the practice.

Growing up with an alcoholic and sick father, Kumari and her five siblings spent long hours picking through rubbish to find recyclables, and sometimes begging, to scrape together enough money for food.

A chance visit in 2010 by a voluntary teacher from a nonprofit called Chetna to her family's shack on a busy roadside in south Delhi gave her hope.

"I was very impressed when she told me the value of education and the opportunities for even desperately poor children like me," said Kumari who moves, along with teems of others, to a homeless shelter at night to sleep.

Chetna, which works with Delhi's estimated 10,000 street children, enrolled her in a distance learning programme run at the NGO and showed her Balaknama which the charity oversees on its premises.

She was enrolled in a journalism workshop and within weeks was heading out on reporting assignments and conducting interviews, in between her new schooling.

"We can change the way people think about us by voicing our feelings and concerns in our paper," said Shanno, the newspaper's consulting editor who uses one name. She quit her factory job of sewing hooks on trousers to work with Chetna and is now pursuing a degree in social work.

South Asia's fastest woman: Naseem Hameed behind success of Street Children

The newspaper, which started in 2002 as an eight-page quarterly, has slowly increased its readership to about 10,000 copies and is now published monthly.

But Sanjay Gupta, director of Chetna (Childhood Enhancement through Training and Action), said finding funds to keep the paper going is a major challenge.

"We are selling the newspapers for two rupees (about three cents) as of now. Still not many people are buying it," Gupta told AFP, arranging old editions on a rickety shelf in the newsroom.

"It is about mindsets, people need to understand that our paper is a very serious attempt by these children to get themselves heard. This is really a perfect tool for their empowerment.

"Our dream is to see our paper in the main stands five years down the line."

Balaknama readers are mostly homeless children and their parents, and since most of them can't read or write, reporters like Kumari read out the news to them.

"They listen with a lot of interest. They feel very happy and proud about our work," she said.

Kumari, who receives money from Chetna to pay for her expenses in the job, wants to finish her schooling and then keep working with non-profit organisations, helping those on the street without a voice.

"We know that none of the big newspapers will bother to write about issues that matter to us," she said. "Just to be able to have an opportunity to express ourselves is a huge thing for us."
COMMENTS
Comments are moderated and generally will be posted if they are on-topic and not abusive.
For more information, please see our Comments FAQ