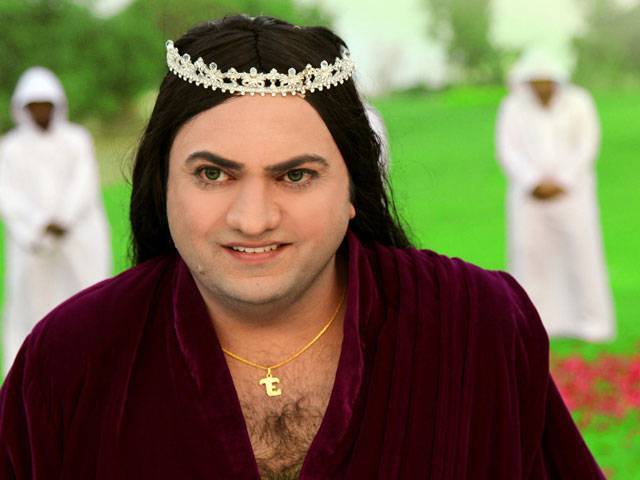 ---
Stop poking fun at Taher Shah; enough of the smart, smarmy and sardonic online posts about him. The joke's on us. Even those who live under a rock have heard of him. He's made Pakistan trend for reasons other than terrorism. As 'Ann Gel' (officially, 'Angel') has garnered several million views within days of its launch, Mr Purple is laughing his way to the bank. The self-proclaimed singer-writer-director-composer has turned into an unlikely social media sensation the world over, a phenomenon that is beyond human grasp. Even mainstream Western tabloids are devoting precious newsprint to this embarrassment.

Shah swoops down from heaven as a messiah to spread peace, love and harmony in his troubled country. And he chooses to do this by singing karaoke while walking across a lush green golf course, wearing a tiara, bathrobe, LV shoes, two inches of ghostly make-up and chest hair showing. Mid-way through the walk, the mankind's angel encounters a fat blonde-haired lady angel, carrying a wand and accompanied by a cute tot (allegedly Shah's own) who looks understandably bored and traumatised. (The only thing left for Shah was to do a Michael Jackson and take the child home!) Then, the three-member angel family cavorts about in a meadow chucking rose petals around. All while Taher sings, "Angel, angel, mankind's angel, la la la, la la la…"

Taher Shah has done his work with a lot of innocence: Ali Zafar

It may be noted that after his erstwhile baffler, "Eye To Eye", it has taken him many years of hard work to invent this writing marvel ("All angels remain quiet like those flowers that persist silence but spread their fragrance and always reside jovial") — vacuous words randomly strung together and set to music. And even while he appears to render them from the heart, they are Greek to the common man.

It takes a genius to be able to bag epic attention for being a freak. Up until last year, he was actually contemplating a Hollywood debut. The sincerity with which he continues to soldier on is truly scary. Either he is a first-rate twit or is deeply delusional. Beat that — he has a blog on which the ideology behind the song is explained, and despite an onslaught of the worst possible insults, the man expresses gratitude to his "worldwide fans" for their love.

All said and suffered, let's face it — he is more famous than most of us put together. But so are quacks like Qandeel Baloch, Meera and Junaid Jamshed. We can slam him but the brutal reality is that our lives are insipid without clowns of the ilk. Thank God for the blue lens, curly locks, hideous wardrobe, atrocious English and tacky video: in gifting us an unsolicited opportunity for mirth and hilarity, Shah could pass off as an angel after all. 

Taher Shah's website is the next best thing to Angel

Tailpieces

1) For the good or for the bad, the British royals' visit to India, meant to be about Bollywood, corporate schmoozing, cricket, slums, charities, rhinos, Modi and the Taj Mahal, will end up being remembered notably for the Duchess' Marilyn Monroe moment. Blame it on the pesky wind in New Delhi!

2) Katie Price has revealed she has four tattoos on her private parts — the same private parts that are now, thanks to her very vocal announcement, public parts!

3) Bollywood's latest obsession is the Austrian wonder-spa, Viva Mayr. B-Town's biggest names have been sneaking off to the Spartan spa for dramatic health makeovers. Given the rate at which our film biggies are flocking to the high-profile clinic, I wouldn't be surprised if they open a separate section for the Indian film frat. Considering Pakistan loves everything Bollywood, let's see if its folk ape the detox strategy too!

Published in The Express Tribune, April 14th,  2016.

Like Opinion & Editorial on Facebook, follow @ETOpEd on Twitter to receive all updates on all our daily pieces.
COMMENTS (8)
Comments are moderated and generally will be posted if they are on-topic and not abusive.
For more information, please see our Comments FAQ