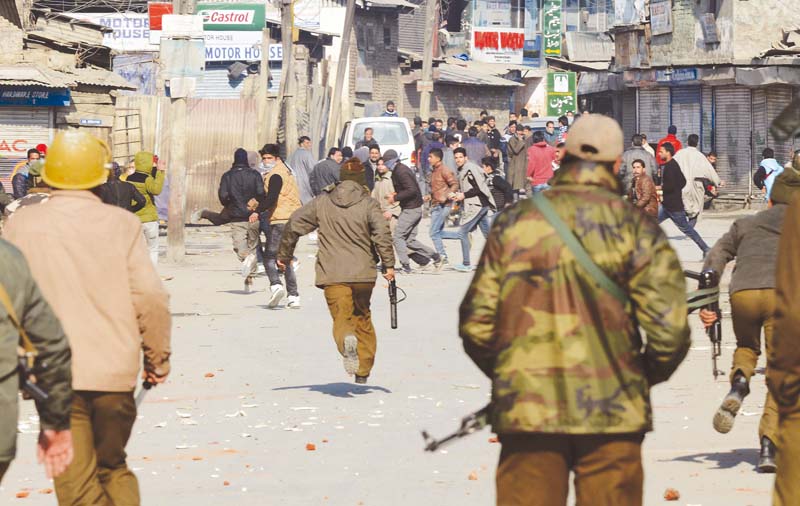 ---
SRINAGAR: Angry residents clashed with police in Indian-occupied Kashmir Wednesday, one day after three civilians were killed when soldiers fired on protesters incensed by the alleged molestation of a girl.

Soldiers fired at the protesters on Tuesday as they stormed an army bunker and set it on fire in the northern town of Handwara, near the de facto border dividing Kashmir between India and Pakistan, police and witnesses said.

14 injured as clashes erupt in Srinagar over Masarat Alam's arrest

Two protesters were shot dead and a woman working in a nearby field later died of a bullet wound. Another injured protester was in critical condition in hospital, said Kashmir's director general of police K Rajendra.

A curfew was imposed in parts of Kashmir including the main city of Srinagar on Wednesday amid fears of violent protests, as separatist leaders opposed to Indian rule called for a general strike over the deaths.

"We imposed restrictions in the old town of Srinagar and in Handwara to prevent violence," Rajendra told AFP.

But small groups of residents took to the streets of Handwara after the woman was buried, throwing stones at police who responded with tear gas, an AFP photographer on the scene said.

The army has expressed regret at the shootings and ordered an inquiry, saying in a statement that anyone found guilty "would be dealt with".

Clashes in Indian-held Kashmir after two militants killed

But the incident is likely to heighten tension in the region where many resent the large Indian troop presence and accuse some of them of rights abuses.

Handwara residents stormed the bunker on Tuesday after a soldier from the post was accused of assaulting a local girl as she tried to use a nearby public toilet, police and witnesses said.

Kashmir's new Chief Minister Mehbooba Mufti warned the shootings would have a "negative impact" on her government's efforts to promote peace in the region.

Since 1989 a rebellion against Indian rule by about a dozen rebel groups -- seeking independence or a merger of the territory with Pakistan -- has left tens of thousands dead, mostly civilians.

Hundreds of thousands of Indian troops are deployed in the region, making it one of the world's most militarised zones.

They enjoy immunity from prosecution in civilian courts unless specifically permitted by New Delhi.
COMMENTS
Comments are moderated and generally will be posted if they are on-topic and not abusive.
For more information, please see our Comments FAQ