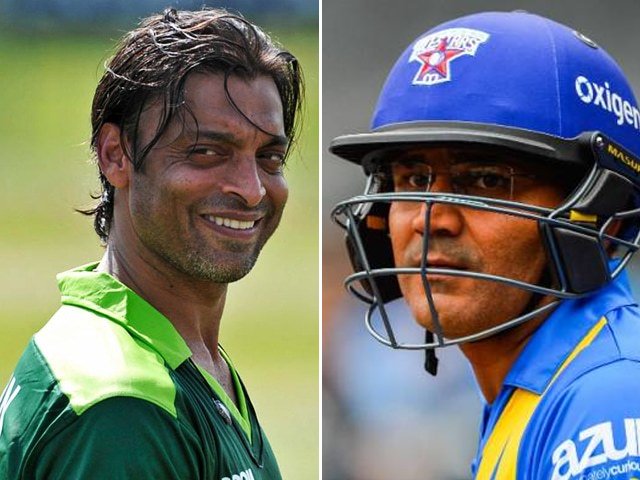 ---
The "mauka mauka" joke never gets old, particularly for Indians trying to provoke Pakistanis whenever we have lost to them. But sometimes, the joke doesn't work and the tables turn.

India may have secured another victory over Pakistan, but our very own Rawalpindi Express made sure not to let India get the 'mauka'.

It all started when Indian opener Virender Sehwag tried to taunt former pacer Shoaib Akhtar on Twitter after India thrashed the Greenshirts 5-1 in the 2016 Sultan Azlan Shah Cup match.

Former Pakistani cricketers praise India for money: Sehwag

Sehwag tagged Shoaib in a picture of the scoreline captioned 'Sorry Shoaib, Pakistan also lost the 'mauka' in hockey'.


Sorry @shoaib100mph bhai hockey mai bhi mauka haath se nikal gaya #IndBeatsPak pic.twitter.com/xgrPjkTpSX

— Virender Sehwag (@virendersehwag) April 12, 2016


But Sehwag did not get the response he may have been looking for. Instead of responding with another taunt, Shoaib took the 'mauka' to be be the bigger person.


Whatever my brother Viru say he's forgiven..bcoz he has heart of gold and he doesn't mean bad but he's funny I'll give him that...

— Shoaib Akhtar (@shoaib100mph) April 12, 2016


I was unable to see Shoaib Akhtar's ball on ODI debut, says Sehwag

Even Twitterati who were expecting a heated debate were left in awe of Shoaib's reply.


@shoaib100mph this attitude of yours shows you were just not a best bowler of your time but a fantastic human being of all time. Cheers!

— Mafaz (@mafaz009) April 12, 2016
@shoaib100mph loved the healthy banter between you guys in commentary box. @virendersehwag and your sense of humor is top notch. 👌

— Prerit Chauhan (@Preritchauhan7) April 12, 2016
@shoaib100mph aur @virendersehwag ki yeh dosti hum nahi bhulengey #Yaariyan #IndBeatsPak #BringBackViruShoaib https://t.co/tqWMI2e4Is

— RJ Sharat (@SharatB) April 12, 2016
@shoaib100mph Indians love you shoaib paaji. Your jodi with viru rocks.

— Simranjit Saini (@sim4all) April 12, 2016
Ramlal !40 saal baad phir se aisi solid yaari dekhi hai maine, inhey ramgardh bula lo @virendersehwag @shoaib100mph pic.twitter.com/yNlgW3PcZ7

— RJ Sharat (@SharatB) April 12, 2016


'Paindu' Pakistan captains didn't know how to handle me: Shoaib Akhtar

https://twitter.com/SSunderdeep/status/719981971770892290


@SSunderdeep @shoaib100mph we want love from both side please stop hatred

— Sami (@Ashnasami) April 12, 2016
@Bush_16 @shoaib100mph @iramizraja Chill , you guys take things too seriously. hahaha.

— Iamnewinhere (@Iamnewinhere1) April 12, 2016
@shoaib100mph wah wah... kya yaari h

— Silly Point (@FarziCricketer) April 13, 2016


Sorry Sehwag, better luck next time!


COMMENTS (11)
Comments are moderated and generally will be posted if they are on-topic and not abusive.
For more information, please see our Comments FAQ