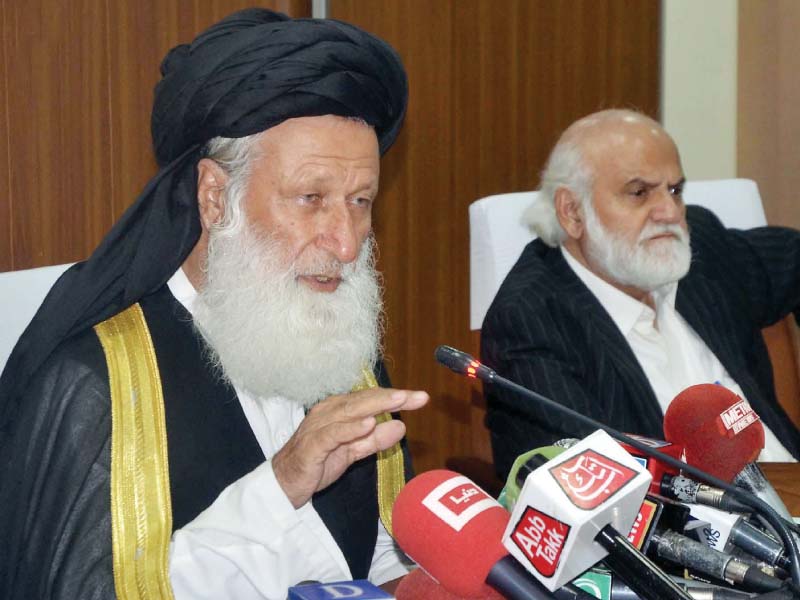 ---
ISLAMABAD:



The Council of Islamic Ideology (CII) is empowered to issue Fatwas (religious decrees) on any issue, said the council's chairman, Maulana Mohammad Khan Sheerani, on Tuesday.




"The CII is not judiciary, but it has the authority to issue Fatwas and hold Ijtihad over any issue," he said while concluding the council's 202nd meeting on Tuesday. Ijtihad is a legal ruling in cases where the Holy Quran and Sunnah of the Prophet (PBUH) do not provide clear directions.

Willing to review blasphemy law, says CII chief

The CII is a constitutional body that advises the legislature whether or not a certain law is repugnant to Islam.

Maulana Sheerani regretted that successive elected governments had failed to produce a single Islamic law as most such laws were enacted in the country during dictatorships. "If the government fails to pass any Islamic bill in future, the council will act on its own," he warned.

Maulana Sheerani, who is also a member of upper house of parliament from the JUI-F, said the council has also decided to send details of its future meetings to the government to enable federal lawmakers to understand Islamic laws.

Bill against physical torture

The council proposed its own bill against physical torture of children which has been 'prepared in accordance with Islamic injunctions and in line with Clauses 31 and 35 of the Constitution'. "The objective of the bill is to protect the rights of children via Islamic legislation," said Maulana Sheerani. "Under this law, children's rights start from the time of conception and last till becoming a teenager," he added.  "Once finalised, the draft will be sent to the government."

Fatwa issued against AR Rahman for film on Prophet Muhammad (pbuh)

Describing the Punjab women protection law as controversial, he said the CII has already rejected it. The council has asked the government to bring the law in consonance with Article 237 of the Constitution, which states that all laws should be in accordance with Islamic teachings.

"If the government fails to do so, the council will legislate under Article 229 of the Constitution," he added. The council has also rejected the domestic violence bill of Khyber-Pakhtunkhwa.

International desks

The council also urged the government to set up different desks in the council so that it could observe the workings of the United Nations, International Monetary Fund (IMF) and other international institutions, as well as monitoring the government's policy over its agreements with international community.



Published in The Express Tribune, April 13th, 2016.
COMMENTS (2)
Comments are moderated and generally will be posted if they are on-topic and not abusive.
For more information, please see our Comments FAQ