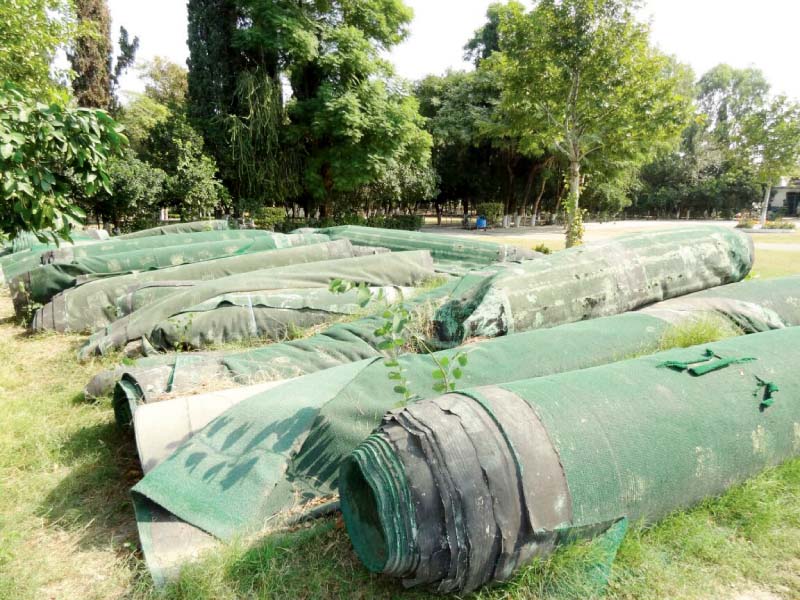 ---
HARIPUR: Four years after its acquisition, artificial turf reportedly worth millions has not been installed at the hockey field in Khalabat Township.

Local hockey players told The Express Tribune they have no modern training grounds. Sources at the sports department said the artificial grass surface could have cost as much as Rs30 million. The K-P sports director, on the other hand, claims the artificial grass surface was second-hand material from another field, denying the alleged value.

Haripur Hockey Association insiders said four years ago, when Khalabat Township local Syed Jamaluddin Shah was the K-P sports secretary, he approved the turf for the hockey field of Shaheed Akhtar Nawaz Khan Degree College. The decision was taken after a request from the well-known player and Pakistan Hockey Federation member Chaudhry Haqnawaz. According to Haqnawaz, artificial turf was an international standard, mandatory on fields. This convinced the Higher Education Commission secretary to allow the turf.

However despite repeated requests, the sports department failed to actually place the artificial grass surface in the hockey field.

Playing rough and tumble

According to sources in the sports department, the cost of a 100 by 70 metre surface amounts to Rs30 million approximately.

As the folded turf has been lying in the open for more than four years, its value has been steadily diminishing.

"We are still forced to practice daily on tough old hockey fields. This ultimately poses difficulties for [our] players in competitions with teams from big cities or even in trials on grounds with artificial turf," said hockey player Riasat. He argued it was the responsibility of the local sports officer and MPAs to ensure high-quality sports facilities for the players. He argued their indifferent attitude deprived the players of modern facilities.

Another hockey player, Naeem, criticised the Pakistan Tehreek-e-Insaf government for its lack of attention towards this issue, arguing it does not live up to its claims of supporting sports and players. "Had they been serious about promoting hockey and protecting the government's resources they would have carpeted the hockey fields of Haripur," he said.

"A [new] field could improve hockey skills and help hunt for new talent at the national level," Haqnawaz told The Express Tribune.

Former player and umpire Chaudhry Aslam called for the encouragement of hockey, as he believes Hazara Division has much talent which only needs to be guided. He named several national team players whom he claimed were raised on the grounds of Hazara.

An old turf

According to K-P Sports Director Tariq Mehmood, the turf is not worth Rs30 million. The artificial surface had already been used on Peshawar's hockey ground, where it was removed four years ago, said Mehmood.

The sports department had to dispose of the material when Shah insisted it should be shifted to his hometown of Khalabat, Mehmood told The Express Tribune. He said the material had already been in use for five years before it was moved to Khalabat and the surface would not have been so costly even if it had been brand new. "It's a cheap poly grass type material", he said.

Published in The Express Tribune, April 13th, 2016.
COMMENTS (1)
Comments are moderated and generally will be posted if they are on-topic and not abusive.
For more information, please see our Comments FAQ