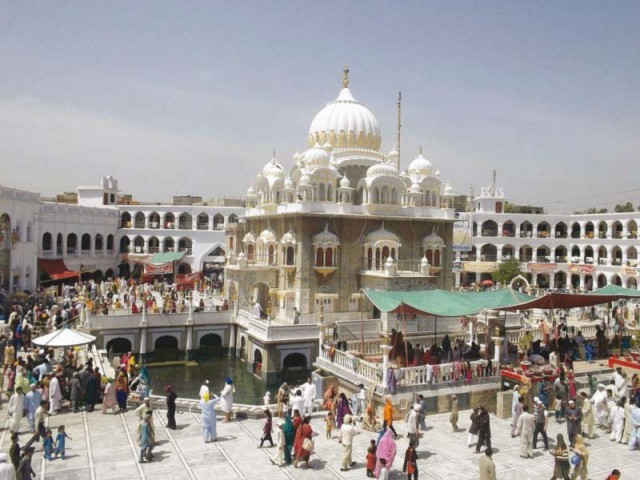 ---
PESHAWAR:



Baisakhi or Vaisakhi kicked off on Tuesday as Sikh pilgrims head towards Punjab, and will continue till April 14. The festival is held each year to commemorate the harvesting season of the rabi crop and in India is observed by Sikhs and Hindus.




However for Sikhs, this is an event of special significance as they celebrate the birth of Khalsa Panth. This day commemorates the founding of Khalsa Panth by the 10th Sikh guru, Gobind Singh, marking a distinct order along the teachings of the 10th guru.

Around 15,000 Sikh pilgrims congregate from all over Pakistan and India every year in Panja Sahib in Hassanabdal, Punjab – one of the most holy places of Sikhism. This veneration is attributed to the presence of a rock believed to be imprinted with the impression of Guru Nanak's hand.

While speaking to The Express Tribune, Sikh community chairperson Radesh Singh Tony said, "Almost 320 Sikh pilgrims have arrived from United Kingdom, 15 from Malaysia, while 1,500 pilgrims from India will join us soon." He added, "It's a three-day celebration. We recite our holy book and enjoy the langar [free food offered to pilgrims]. If anyone feels hungry they can eat at any time."

During the festival, pilgrims recite religious scripture from the Guru Granth Sahib for almost 48 hours continuously to celebrate the founding of Khalsa order.

A golden season

Sikh farmers welcome the harvesting season with enthusiasm and joy to mark the rabi crops. After taking an early bath, people visit Gurdwaras to express their gratitude to God. After prayers, Amrit (sweet milk) is distributed amongst all pilgrims.

Tony maintained, "In Punjab, the occupation of Sikh community is farming so they arrange colourful festivals and celebrate it with great enthusiasm amid songs and dance." He added, "A major attraction of this festival is dance, including bhangra and gidas."

Published in The Express Tribune, April 13th, 2016.