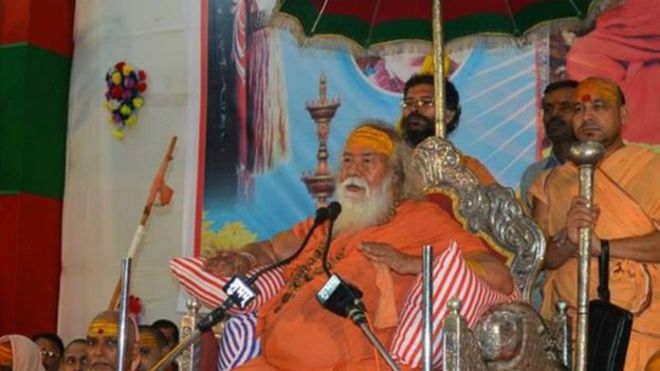 ---
Hindu religious leader Shankaracharya Swaroopanand sparked controversy on Monday as he claimed allowing women into a temple devoted to Lord Shani (Saturn) would increase incidents of rape, BBC News reported.

The Hindu religious leader's comments came two days after the administration of Shani Shingrapur temple in the Indian state of Maharashtra announced to open its doors to women devotees. For centuries, only men were allowed to enter the temple.

Indian guru blames Delhi rape victim, sparks outrage

"Women entered Shani temple's inner sanctum," Shankaracharya was quoted as saying by Indian news agency ANI.

"The women are worshipping Shani in the temple. By doing so, Shani's eyes would fall on women and this would result in increase of rape incidents," the 94-year-old added.

The decision to allow women into Shani Shingrapur temple came on the heels of Mumbai High Court's verdict, affirming the right of women to enter and pray inside all temples.




Women were kept out of the Shani Shingnapur temple for nearly 400 years and temple officials, in the past, had claimed that the ban was actually "to protect women since Shani emits radiation which can harm them and cause deformity in a foetus if a pregnant woman enters the temple".

Ally of India's Modi says rape "sometimes right, sometimes wrong"

Temple priests even carried out an elaborate cleansing ritual last year after a woman managed to enter the temple and offered prayers.

However, temple authorities had to surrender after last month's Mumbai high court ruling that women had a fundamental right to enter temples and anyone trying to prevent them would be handed a six-month jail term.

Recently, courts in India have been considering legal challenges to the policy of not allowing women into the temple.

People took to social media to protest against the Shankaracharya's statement. While some were outraged, others mocked him for his absurd logic:

https://twitter.com/RashmiSC/status/719481815929458688

https://twitter.com/Upasna24/status/719749753093943297


Shani deva must be pissed at #ShankaracharyaSwaroopanand by now. What a dumb thing to say!

— Lobo (@lobopraveen) April 12, 2016
Who is Shankaracharya Swaroopanand? Is he not created by the same God who created women? Is he not recreated by a woman?

— Deepa Roy Chowdhury (@DeepaCoach) April 11, 2016
Women in sanctum can cause rapes & droughts, #shankaracharya needs medical assistance. God give him brains #GetWellSoon. @Mhatre_Sheetal

— Kamalpreet Kaur #INC (@inckamalpreet) April 11, 2016
If people like Shankaracharya Swaroopanand will lead religious practices, only God can save the religion.

— Rahul Raj (@x_rahulraj) April 11, 2016
The article originally appeared on BBC.