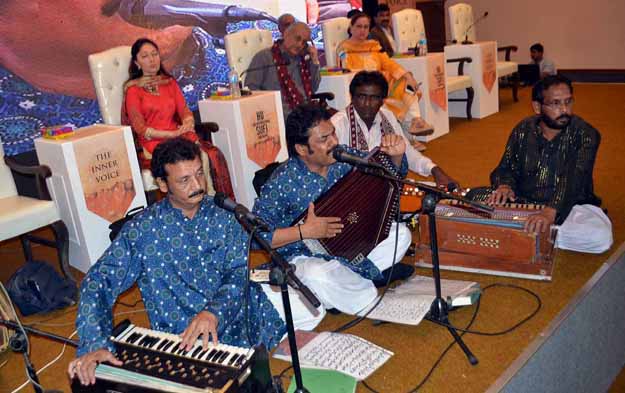 ---
KARACHI: True to the Sufi tradition, the Sufi Conference is successfully being led by women, remarked Pakistan Peoples Party Senator Aitzaz Ahsan.

He was giving presidential remarks at the final session on the second day of the Second International Sufi Conference at National Museum of Pakistan on Sunday evening.

According to him, the Sufi belief of love, peace and tolerance are needed in society, as Sufis are against the rigid norms and stereotypes being imposed by society. This leads back to the session's topic; the relevance of Sufism today.

Evolution of music: For the love of music and making money off it

Ahsan believed that the relevance of Sufism today has to do with the fact that it places a great deal of importance on the aspect of matriarchy and the importance of women. He also believed that Sufism is not exclusive to Islam. In fact, it's against religious oppression and rigidity. He stated that Sufis all around the world believe in diversity and a peaceful coexistence among all religions and people. He said that Sufi's were not only confined to 'Dargahs' but proved to be revolutionary figures of their time.

Architect, educator and author Kamil Khan Mumtaz believed that we, as human beings, have to fulfill the purpose of our creation and Sufis are the best examples of fulfilling this purpose.

Scholar Dr Makhmoor Bukhari said that every individual has light and darkness within them and Sufis are those that control their darkness with the light. He added that we must also tread on the same path as the Sufis. According to him whoever has "nice manners" is a Sufi.

Dr Aslam Pervez Memon, a professor of political science at the University of Sindh, while reading his research paper mentioned that the shrine of Shah Abdul Latif Bhittai is unique in several aspects, as compared to other shrines of Sufi mystics.

He said 'zikr', which is a rhythmic repetition of the name of Allah, a regular feature at the shrine that happens twice a day, is one of them. Poet Akhtar Dargahi said that tasawwuf and music has a deep rooted relationship and termed music 'a spiritual diet' that is a perfect medium for spirituality. He said that a number of genres of Sufi music were born in Sindh, such as kafi, wahi, bhagati, whereas qawwali was started by the Chisthi Order of Sufism.

Scholar and historian Faqir Aijazuddin explained that spirituality has become a 'do it yourself exercise', largely due to the media. He said that the path of love is the path one should follow, as hate destroys the hater.

Remembering Sufi poets

Sufi unity lies not in uniformity but diversity. There is no unity without diversity, said writer Aksri Mufti, speaking at the session, titled '19th-20th Century Sufi Poets'. The session started with singer Zulfiqar Ali performing his rendition of the works of Shah Abdul Latif Bhittai.

Bhitai was an ambassador of peace and humanity, said Syed Waqar Shah, the 12th Sajjada Nasheen of Bhitai's shrine in Bhit Shah, Matiari, and Shah Latif Foundation chairperson. Bhitai wanted to build a village where people share love for one another. It is high time that we promote similar messages of love and peace, he added.

'Youth have forgotten essence of Sufism'

Speaking about interfaith harmony, Shah said that at the shrine, sabeel is distributed by a Hindu man, the alam has been put by a Muslim woman, from Sunni thought, and the Christian community help run the health camp. Verses from Bible have also been inscribed on the camp. The second biggest gurdwara is also present in Bhit Shah, he claimed.

Sufi poets tend to focus on topics such as peace, humanity and tolerance, remarked scholar Taj Joyo. French historian and anthropologist Dr Michel Boivin also spoke during the session.

Published in The Express Tribune, April 12th, 2016.
COMMENTS
Comments are moderated and generally will be posted if they are on-topic and not abusive.
For more information, please see our Comments FAQ