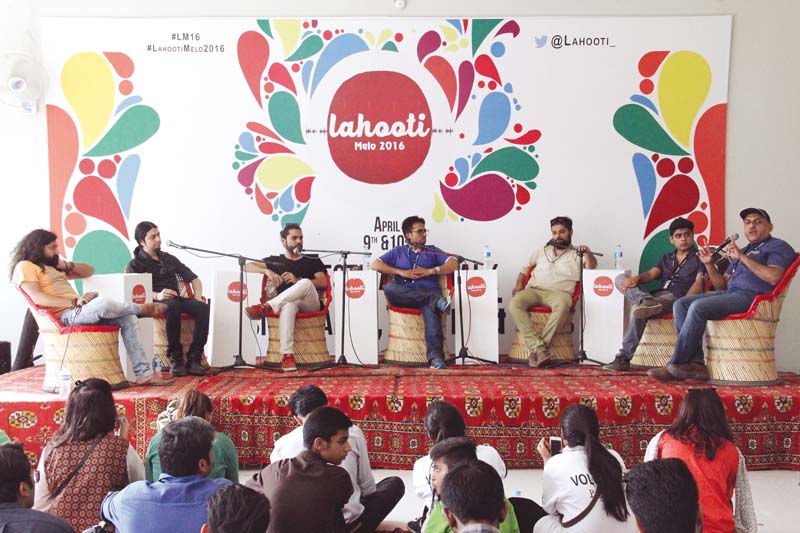 ---
HYDERABAD:



I have yet to meet an artist who says that his family and friends never had a hearty laugh when he told them he wants to make a living as a musician in Pakistan. Sunday afternoon at Hyderabad Club saw many such individuals huddle together to revisit the question. Attending the Lahooti Melo 2016, guitar maestro Faraz Anwar, music producer Zohaib Kazi, guitarist Omran Shafique, former Fire Records head honcho Akbar Yezdani and Sounds of Kolachi front man Ahsan Bari took to the stage to identify the road that takes one from 'Beats to Bucks'. They were also joined by Taazi reprensentative Zeeshan Khalid who shed light on what his company is doing to make sure Pakistani artists keep up with the digital age and content is distributed legally.




Still out of breath from an extremely entertaining improv jam session that preceded the talk, Bari introduced the panelists and dissected the subject before allowing Yezdani to break the momentary silence. As the tradition of discussion sessions at festivals goes, it took little time for the speakers to divert from the topic, never to return again. Benefiting from Yezdani's presence, the panelists brought the role of record labels under the microscope and Yezdani defended his livelihood with all his reasoning abilities.




He maintained Pakistani artists have no concept of intellectual property. "See, it is like trade. Once you sell the rights to a company, you cannot say that why are you now making money of it," he reasoned. But doesn't this justify exploitation in a scenario where there is a single buyer who is free to decide what price to pay for music? "Artists themselves set their prices ... at least this is what we did at Fire Records. I always say that when we used to offer deals, everyone wanted money upfront in lump sum. It was only Ali Azmat who liked the idea of royalties," he said.

Although he spoke for the most part, Yezdani's responses were pertinent since he was the only representative of companies that are still blamed for putting a knife in the industry's heart.

Kazi, who recently put out his album Ismail Ka Urdu Sheher, was quick to question that, when an artist can pretty much handle everything on his own, what is the need for a label to exist? Yezdani pointed out, "There are two kinds of online platforms. Those that feature user-generated content and those that are managed platforms. For instance, you cannot upload your content on Saavn and Gaana on your own. The thing with the latter kind is that they don't want to deal with the artist themselves." The industry veteran said it benefits such platforms by giving them aggregated content and setting up a legal buffer. "This is so that if a legal complication arises, the label takes the hit and not the website." For the artists, he also had some advice. "If you don't know your rights, if you don't know how to make money of your work, then someone else will do that."

Hitting the right note as he has been doing for years, Anwar put it straight. "I never thought about money when I started out. I think there's too much distraction for today's artists who focus on all things except improving their own skill which was not the case earlier," he said.

Kazi was of the view that one can either do what they want or what the market demands. The Coke Studio team member said today's artist needs to keep consumer behaviour in mind when going about their creative pursuits. "That's what makes all the difference … what separates Jimi Hendrix from Steve Vai." Bari shook his head in agreement. "I think artists should produce music to which the audience can relate to," the moderator pitched in.

Shafique, or Momo as he is lovingly called, was asked to compare his time playing music in the US and in Pakistan. "I have been playing here for 10 years now. In the US, they have the concept of perpetual royalties, even for session players but things are never easy. I have played for years there too without making a single dollar," he said. Momo feels however, things do work out if one persists. "And it's also not like the Pakistani audiences just want things for free. If you give them a good option, make it easy for them to buy, they will buy [legal content]," he added.

Published in The Express Tribune, April 12th,  2016.

Like Life & Style on Facebook, follow @ETLifeandStyle on Twitter for the latest in fashion, gossip and entertainment.
COMMENTS
Comments are moderated and generally will be posted if they are on-topic and not abusive.
For more information, please see our Comments FAQ