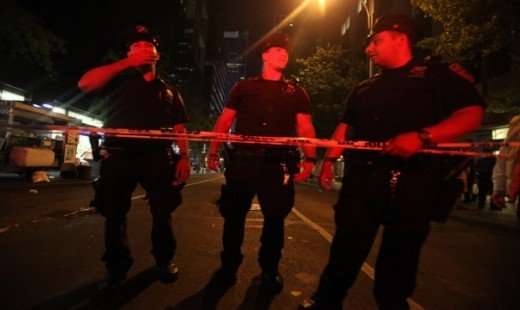 ---
NEW YORK: U.S. prosecutors charged a Pakistani-American on Tuesday with attempting to blow up a car bomb in New York's busy Times Square while officials in Pakistan arrested several of his relatives.

"After the arrest Faisal Shahzad admitted that he had attempted to detonate a bomb in Times Square. He also admitted that he had recently received bomb-making training in Waziristan, Pakistan," the charges said.

He also told authorities he acted alone in Saturday's failed bombing but sceptical investigators are looking into his recent trip to Pakistan, a U.S. law enforcement source said.

Shahzad, 30, was arrested late on Monday night after he was taken off an Emirates airline plane that was about to depart for Dubai. Hours later, several relatives and a friend were arrested in Pakistan in connection with the failed bombing, a security official in Karachi said.

U.S. authorities are investigating whether Emirates airline made a mistake in letting Shahzad on its aircraft.

"That's part of the investigation that we're looking at," White House spokesman Robert Gibbs told a news briefing.

An intelligence official in Pakistan said Shahzad received militant training in northwest Pakistan near the garrison town of Kohat. The area around Kohat is a stronghold of Tariq Afridi, the main Pakistani Taliban commander in the region.

But the homemade bomb he is accused of trying to detonate in Times Square was a crude collection of gasoline, propane gas, fireworks, fertilizer and alarm clocks.

Although markets shrugged off the New York car bomb attempt as a one-off situation, tensions are high among investors. News that police in London closed a subway station to investigate reports of a suspect package pushed U.S. stock index futures to session lows before the market opened on Tuesday.

Acted alone:

Shahzad was due to appear in federal court later on Tuesday or Wednesday to face the terrorism-related charges, which carry a life sentence if he is convicted. Had the bomb detonated, many people could have died, experts said.

"He's admitted to buying the truck, putting the devices together, putting them in the truck, leaving the truck there and leaving the scene," the law enforcement source told Reuters, speaking on condition of anonymity. "He's claimed to have acted alone.

"Based on our collective experience it's hard to really believe that this is something someone would do on their own. It seems hard to pull off alone. There's a lot we don't know yet," the source said.

U.S. Attorney General Eric Holder said Shahzad has provided investigators with useful information but declined to discuss specifics at a news conference in Washington.

New York Police Commissioner Ray Kelly said it was the 11th thwarted attack on New York City since September 11, 2001.

An Afghan immigrant who admitted to receiving al Qaeda training in Pakistan, Najibullah Zazi, pleaded guilty to plotting a suicide bombing campaign on Manhattan's subway system last September.

President Barack Obama said the investigation would seek to determine if the suspect in custody had any connection with foreign extremist groups.

The Taliban in Pakistan claimed responsibility for the plot though several officials voiced scepticism about the claim.

Shahzad, who became a U.S. citizen last year, recently visited Pakistan for about five months, returning to the United States in February, the U.S. law enforcement source said.

Shahzad worked for about three years as a junior financial analyst in the Norwalk, Connecticut, office of the Affinion Group, a marketing and consulting business, the company said on Tuesday. Shahzad left the company in June 2009.

Shahzad is suspected of buying a 1993 Nissan sport utility vehicle used to carry the homemade bomb into Times Square as the theatre and shopping area was packed with people on a warm Saturday evening.

Authorities searched Shahzad's home in Bridgeport, Connecticut, the FBI said on Tuesday. An FBI spokeswoman did not say what authorities had found.

Back in Pakistan:

Interior Minister Rehman Malik confirmed that Shahzad had a Karachi identification card.

Pakistan Embassy:

Pakistan's embassy has said it will work with US intelligence to unravel the failed Times Square bombing. However, it said at the moment it appears the would-be bomber was a lone "disturbed individual".

Though intelligence officials in Pakistan say at least one man has been detained in the case in Karachi, embassy spokesman Nadeem Haider Kiani said he was unaware of that arrest. He said it was too soon to tell exactly what motivated the bomber.

Asked whether there were ties to foreign terror groups, Kiani said early indications suggest the bomber was "a disturbed individual."

In a statement released by the embassy, Pakistani Ambassador to the US Hussain Haqqani said most Pakistani Americans share a hope for a terror-free world.