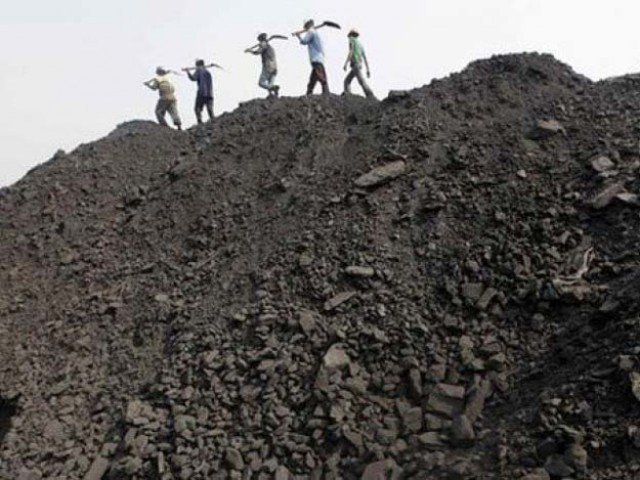 ---
ISLAMABAD:



Reports have emerged that several coal mining companies are defaulting on payments including those working in the United States and China following a slowdown in economic growth and an anti-pollution drive that has pushed coal prices to near four-year lows.




In a climate conference held in Paris late last year, 195 countries agreed on a landmark deal and committed to limiting the rise in global temperatures to two-degree Celsius a year.

At a time when the world is making intense efforts to tackle global warming and move towards clean energy such as wind, hydel, gas and solar resources, Pakistan is pressing on with plans to develop coal-based power plants, especially in energy-starved Punjab. This indicates that the policies being designed by the government lack a vital due diligence exercise.

Thar coal – separating facts from fiction




The government must have an understanding where coal prices will be headed in the future, particularly in the backdrop of an increasing number of coal mining companies defaulting on payments.

Their inability to clear debts will create a scenario where most of the companies will abandon the mining business and the gap between demand and supply of coal will widen greatly. In this case, a hike in coal prices will be inevitable.

Under the Paris climate deal, many countries have pledged that they will bring down coal consumption levels in power plants. The US has already embarked on a plan to minimise its reliance on coal-based power plants.

However, China and Japan are still banking on such plants. In the first nine months of 2015, China's central and provincial governments gave environmental approvals to 155 coal-fired power plants at an average of four per week. It also consumes imported gas from Turkmenistan for producing electricity.

On the other hand, Japan had hitherto been meeting most of its needs from nuclear energy, but now it has started replacing these plants with coal-based electricity projects.

Going Green: Record investments made in renewable energy in 2015

Pakistan a destination for coal plants

Interestingly, Beijing also vowed in the Paris meeting that it would contribute to the efforts aimed at reducing global warming and would shift most of the coal power plants to developing countries. Pakistan is one of the destinations that China is targeting for installing coal power plants, including some old plants, as suggested by some reports.

At present, Pakistan and China are working on inter-connecting the electricity grid, which suggests that Beijing could set up more coal power plants in Pakistan to meet its energy needs. They are set to develop over 10,000-megawatt plants including coal projects.

China is the only country that is providing financing for Thar coal mining under the economic corridor project, though many coal mining companies there have defaulted on bank debt repayments.

The Paris climate deal has restricted financing for coal power plants and Washington has already refused to dole out funds for such projects in Pakistan.

In such a scenario, China would have monopoly over financing for coal projects, which may be provided at higher rates. This was the reason behind the National Electric Power Regulatory Authority's (Nepra) decision to increase the rate of return from 17% to 22% for Engro coal mining projects in Thar, which was funded by China.

Absence of policies

Pakistan has not yet developed fully-fledged policies for setting up coal power plants in the country. A couple of them are being developed in the Punjab areas of Sahiwal and Kot Addu. In Kot Addu, reports suggest that locals are protesting against the threat to environment by the coal plants.

Pakistan, China to build 350MW coal power plant in Karachi

The government should devise a strategy that will allow it to execute different types of power projects depending on the resources available in a region.

Azad Jammu and Kashmir and Khyber-Pakhtunkhwa are suitable for hydroelectric power projects whereas Sindh and Balochistan, which are rich in natural gas, provide a fertile ground for gas-fired power plants.

Thar, situated in Sindh, has abundance of coal and here coal-powered plants should be set up at the mouth of mines. In Punjab, the most populous province of the country, power plants should be run with the help of imported gas, including liquefied natural gas.

This appears to be the most appropriate strategy that the government could adopt to tackle energy crisis in the country and silence critics of environmental hazards but the state seems to be following its own order to serve the vested interests of some investors.

The writer is a staff correspondent 

Published in The Express Tribune, April 11th,  2016.

Like Business on Facebook, follow @TribuneBiz on Twitter to stay informed and join in the conversation.
COMMENTS (13)
Comments are moderated and generally will be posted if they are on-topic and not abusive.
For more information, please see our Comments FAQ