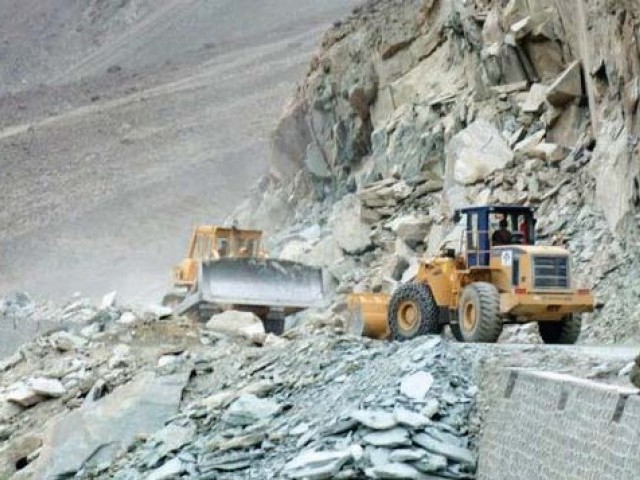 ---
PESHAWAR/ KOHISTAN: The main artery of the Karakoram Highway linking Kohistan to G-B, the China border and the rest of country remained blocked for an eighth consecutive day after landslides in several locations.

As a result, residents were exposed to mobility issues, locals and police said on Sunday.

In some areas, food shortage and lack of treatment facilities have the potential to deepen the crisis.

Heavy rains on April 2 triggered landslides on the highway and link roads, damaging infrastructure in most parts of Kohistan. According to the police, the KKH was initially blocked at 19 places and was mostly cleared by Frontier Works Organization.

However, heavy landslides in Choching and Kiyal villages were the first of their kind in Kohistan's recorded history as portions of hills fell on the highway.

Parts of the route were damaged and some but all disappeared.

Police said some of the internal roads were cleared of the debris by locals.

Traffic from G-B to down country has been suspended, while landslides at Kiyal and Choching could take another five or six days to clear, restoring the link between Kohistan and G-B. "To restore road communication, authorities will need to cut hills at several points," a police source said.

Nazar Khan, a local, said residents of remote areas in Kohistan were facing mobility issues due to blocked roads. He added the food shortage would only add to the miseries of people.

Shamsur Rehman, a local journalist, said two minors in Mir Aftab died of measles as they could not be shifted to hospital due to the road blockage. However, the health department had yet to confirm the report.

Kohistan has one National Assembly seat (NA-23) and K-P provincial assembly has three seats (PK-61, 62 and 63).

Although the region is rich in natural resources such as water and forests, the area remained ignored and underdeveloped, both in terms of infrastructural uplift and education; particularly for women.

Published in The Express Tribune, April 11th,  2016.

 
COMMENTS
Comments are moderated and generally will be posted if they are on-topic and not abusive.
For more information, please see our Comments FAQ