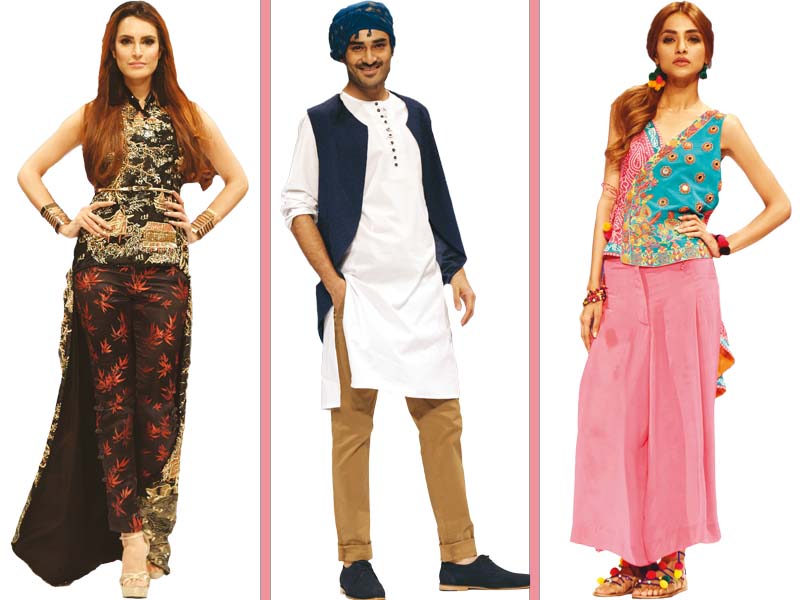 ---
KARACHI:


Day two of the Fashion Pakistan Week (FPW) S/S 2016 went undoubtedly beyond the expected. It provided some much-needed respite from the designers' usual aesthetics, with the outfits breaking all stereotypes and giving one another a run for the top spot. With eccentric colour schemes and an array of cuts, the collections did justice to the to the jive and jubilation associated with the season of spring.


Gul Ahmed


Collection: The Eclectic

It seems like Gul Ahmed took over the ramp with a spring in its step. Its collection perfectly embodied what spring and summer seasons are all about: vivid hues and high spirits. The women's wear featured shalwars and dhoti shalwars, accessorised with pom-pom earrings and chappals. The look was classic yet fun-filled, with Sindhi embroidery making an appearance in the form of mirror work on the front and back panels and hemlines. A vibrant colour scheme of blues, yellows, pinks, oranges, yellows and greens gave the spring flair.

Jafferjees




 Collection: Untitled

In its current spring/summer collection, the local leaders of leather goods featured an assortment of travel bags, purses and briefcases. Jafferjees infused some colour to the ramp, with maroon and beige for men and red and brown for women. The men's attire was reminiscent of the aristocratic British of yesteryears, with sticks and umbrellas to match the briefcases. Although rather minimalistic, the beige hues added a certain poise to the clothing which was designed by Wardha Saleem and styled by her brother Nubain Ali.

Ayesha Farook Hashwani




Collection: Oriental Blossoms

The night belonged to Ayesha Farook Hashwani who wowed the attendees with an amalgamation of the East and West. Her showcase tapped into the ancient Oriental culture, depicting Pagodas, cherry blossoms and other images typically associated with it. The outfits were all heavy with embellishments, set against the backdrop of Western cuts in black, gold, white and red. What stood out most was the dexterity with which Hashwani had maneuvered Chinese art and architecture on the fabric, even including the image of a dragon therein.

Huma Adnan






Collection: Organic Modernity

It's hard to explain how Huma Adnan parted from the typical neons she has come to be associated with and somehow, managed to propel herself to a whole new level of crafty designing. Huma's outfits relied solely on fusion in shades of blue, white and beige. The most compelling aspect of the collection was the use of cotton for pret wear — an enticing  and useful idea, considering the soaring summer temperatures. Funky footwear and hairdos added extra oomph to the collection.

Zaheer Abbas




Collection: Basic

It is amazing how the colour white can magically liven up even the dullest of looks. Ever the craftsman, Abbas took heed from this, delving into different Western cuts and playing around with some layers. With Basic, the designer must have been conceptualising something ethereal for the all-white palette gave the outfits a dream-like appeal. However, to break the monotony, Abbas resorted to accessories like sunglasses, necklaces, belts and wedges, keeping it simple but also redefining the colour of purity.

Naumaan Arfeen




Collection: Carpe Diem

The designer 'seized the moment' with redbrick colours, blues and beige on semi linens, silk and raw silk. From three-piece men's suits to dhoti shalwars and bird motifs on the back, Carpe Diem had it all. Arfeen kept it natural and sophisticated and also had small children and older men model the outfits which became the best part of his showcase. Unfortunately, the outfits began to feel a tad monotonous and could have done with a little more risk.

Zainab Salman




Collection: Moonstruck

For her ramp debut, Zainab Salman took cue from Shakespeare's renowned play Midsummer Night's Dream, with light white fabric and touches of pinks, greys and greens. The outfits featured diamantes, pearls and bird embellishments all over which mixed well with the Western cuts and styling. Skirts, evening gowns and fish-tail dresses were all in attendance, paired with pointed heels to create a fairy-like, fantastical scene on the ramps.

Amir Adnan




Collection: Escape

For once, Amir Adnan let go of his signature sherwanis. The break was long overdue and with Escape, Amir exhibited street wear with a dose of the thug life. Short shirts, three-piece suits, extended hair and printed headgear were seen with shin-length trousers. We loved how he toyed with lights and colours — not playing safe and restricting himself to sherwanis like he almost always does. He stylised his exhibits in an inimitable fashion — going completely out-of-the-box.

Published in The Express Tribune, April 11th,  2016.

Like Life & Style on Facebook, follow @ETLifeandStyle on Twitter for the latest in fashion, gossip and entertainment.
COMMENTS (2)
Comments are moderated and generally will be posted if they are on-topic and not abusive.
For more information, please see our Comments FAQ