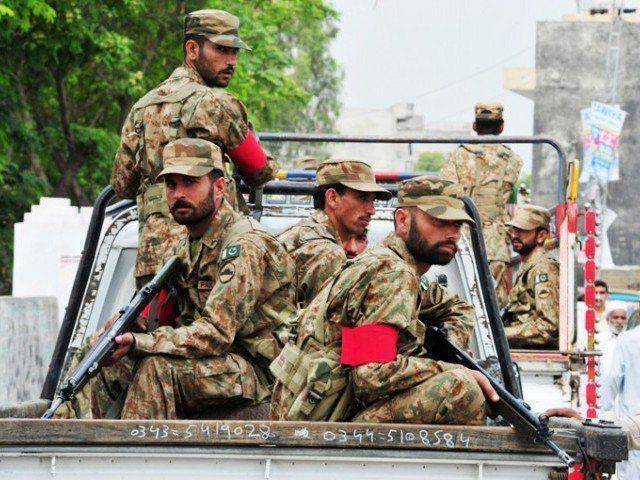 ---
ISLAMABAD: Interior Minister Chaudhry Nisar on Sunday held talks with the ruling PML-N lawmakers in a bid to break the civil-military impasse over the Rangers refusal to move at forward positions during Kacha operation in Punjab.

Nisar summoned PML-N lawmakers for meetings after Punjab Rangers refused to take part in an operation at forward positions at Kacha areas of the province. The Kacha operation is ongoing with the support from Rangers as well as the Pakistan Army but Punjab Police is fighting at forward positions. Rangers have so far established pickets around riverine islands and besieged Kacha areas from the Punjab side, according to the latest information shared by the government's top representatives.

Punjab operation: Civil-military huddle pledges indiscriminate action

However, sources say the Punjab Rangers have conveyed their refusal to move at forward positions to high-ups of the provincial government. The Rangers maintain that as their mandate is to facilitate Punjab police, they will only establish pickets around the islands.

"Rangers say that without legal cover they cannot participate in the operation and so police has to take the forward positions," a source said.

Apart from the Rangers, the Pakistan Army intends to provide support to the operation by offering helicopter services. However, the military is also reluctant to do so due to non-availability of legal cover, sources added.

Pakistan launches much-awaited operation in South Punjab

"Rangers and Pakistan Army have sought their requisition under Article 147 of the Constitution of Pakistan and later special powers under Sections 4 and 5 of Anti Terrorism Act 1997. As the Punjab government has not yet requisitioned them in the province so they are unable to participate in the operation in Kacha areas," the source added.

In a bid to resolve this impasse, Nisar called meetings with party lawmakers particularly from South Punjab to discuss requisitioning of Punjab Rangers in the province.

Sources claim that although Punjab Chief Minister Shahbaz Sharif is interested in requisitioning Rangers in the province, Prime Minister Nawaz Sharif is not in favour of the idea. "PM Nawaz believes Punjab cannot afford any military-led operation. Although the army has started an operation in the province, there is coordination between civil-military leadership and the ultimate authority lies in the hands of the Punjab government."

Punjab operation to be jointly conducted by civil, military agencies: Rana Sanaullah

Meanwhile, the military has been engaged with full intelligence-based operations in the province particularly in central Punjab, including Faisalabad, Gujranwala, Lahore and Rawalpindi.

Kacha areas are a series of small islands at the meeting point of three provinces and five rivers at Rajanpur and Rahim Yar Khan. This area is a well-known place for safe havens of criminals, dacoits, terrorists and kidnappers due to difficult riverine areas.