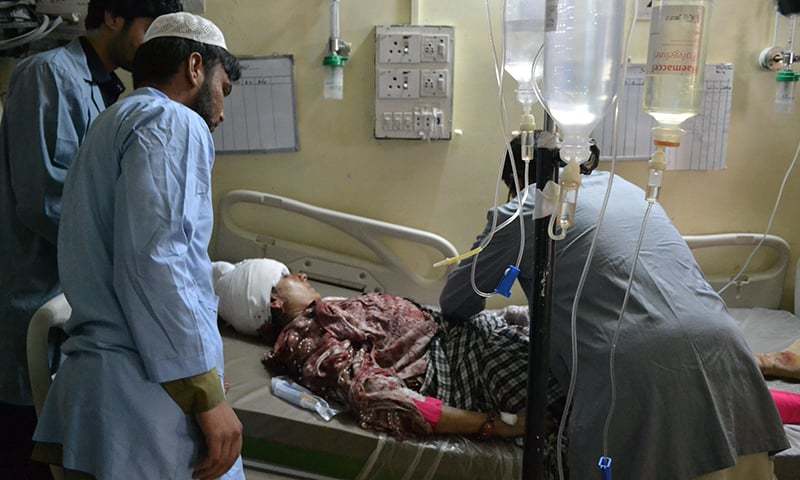 ---
LAHORE: Supreme Court (SC) Justice Mian Saqib Nisar said on Saturday health service delivery in the country was unsatisfactory.

"It is the responsibility of the state to provide good health facilities. People have to run from pillar to post to get treatment at public hospitals," Justice Nisar said at the inaugural ceremony of an international conference on Forensic Psychiatry at the University of Health Sciences (UHS).

"Everything is shown good on paper here… but in reality the policies do not get implemented." He said of all the fundamental rights enshrined in the Constitution, the most important was the right to life. He said it was the collective responsibility of the three pillars of the state – legislature, judiciary and executive – to focus on the right to life and health.

Justice Nisar said mentally-challenged people needed more care compared to other people. "The society is cruel and does not lend a helping hand to such people," he said. He said there was no law to deal specifically with the cases involving mentally-challenged people.

"Give us the law and develop a proper system of assessment and evaluation of offenders with mental illnesses, and, I assure you that courts will do their job," he said.

Justice Nisar said the case regarding death of some patients at the Punjab Institute of Cardiology (PIC) owing to wrong medication had not been closed. "The case has been moved from SC's Lahore Registry to Islamabad."

He welcomed foreign delegates to the conference and told them to visit Lahore without any fear.  "If you have any concerns [about coming to Lahore], inform me. I will accompany you myself," he said.

Mowadat Hussain Rana, chief organiser of the conference, said there was a lack of training institutions and formal qualifications in the field of forensic psychiatry. He said the UHS had taken the initiative to providing training opportunities related to forensic psychiatry by organising the conference.

He said Sindh had adopted the Mental Health Act. Efforts were under way to follow the suit in other provinces, he said. "Such efforts will yield results only if a robust system of forensic psychiatric services is in place to effectively implement the Mental Health Act of Pakistan, 2001," Rana said.

UHS Vice Chancellor Muhammad Aslam, Board of Governors member Malik Hussain Mubbashar and consultant forensic psychiatrist Sobia Khan also spoke on the occasion.

Published in The Express Tribune, April 10th, 2016.
COMMENTS
Comments are moderated and generally will be posted if they are on-topic and not abusive.
For more information, please see our Comments FAQ