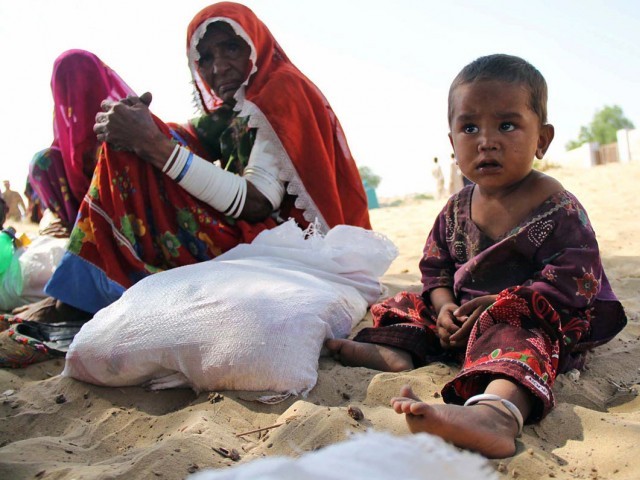 ---
KARACHI:

While the situation in Thar often becomes the topic of discussion at various forums due to the high death toll of its children and clouds of famine hovering over the land, Dr Sono Khangharani believes that to find solutions, one needs to 'get in Thar', which is a 'highly vegetated area'.

14 children die of malnutrition in Tharparkar

Dr Khangharani, a community development specialist native to the place in question, was speaking to a session on the health crises in Tharparkar on Saturday at Habib University. Dr Shaikh Tanveer Ahmed of the non-governmental organisation (NGO), Health and Nutrition Development Society (HANDS), and Dr Shereen Nerajo, special health secretary in the Sindh government, were the other two panellists.


Poverty, illiteracy, poor education system, malnutrition, lack of development, health facilities and other issues will make a list of problems out there in Thar but, first, there is a need to understand its root causes, said Dr Khangharani. No universal development programme can cure or address the problems that surface in the area unless it takes into account the lifestyle and cultures of the indigenous people, he said.

NCHR terms Tharparkar deaths a violation of human rights

"To understand what the problems actually are and where they are rooted in, one needs to get in there, correspond with the community and help them design a way out," he said, adding that the native people were willing to introduce positive changes in their lives.

'Thar not a desert'

Describing Thar, Dr Khangharani said that it is not a desert. "It is, on the contrary, a highly vegetated area, depending on the nature's showers," he said.

Like its diverse culture, its problems are also multifaceted, he remarked, tracing the area's history back to some 4,000 years ago, when, according to him, people from Gujarat, Rajasthan and Thatta migrated to Thar as the area hosted vast green lands. The area's topography and demography changed with time and, in the past 1,100 years, around 70 drought cycles were recorded, in which around one million people died.

A major shift came in the year 2000, when the then military-run government declared Thar a 'free zone' and the development of infrastructure began, he said. "Today, the third largest coal reserves of 1.2 billion tons has been found in Thar and it also has 120 salt mines that can meet the whole country's demand."

Deaths in Tharparkar not due to drought, says Sindh CM

Infant mortality

During the session, Dr Ahmed of HANDS presented numbers from researches conducted by different authorities and his NGO. In Thar, the infant mortality rate was 75 for every 1,000 birth, and 43.7% of the children were growth-stunted. He attributed these problems to a lack of basic health facilities.

Government representative Dr Nerajo said that collective effort was needed to bring change. "Small efforts can bring about big changes in society," she said.

Published in The Express Tribune, April 10th, 2016.
COMMENTS
Comments are moderated and generally will be posted if they are on-topic and not abusive.
For more information, please see our Comments FAQ