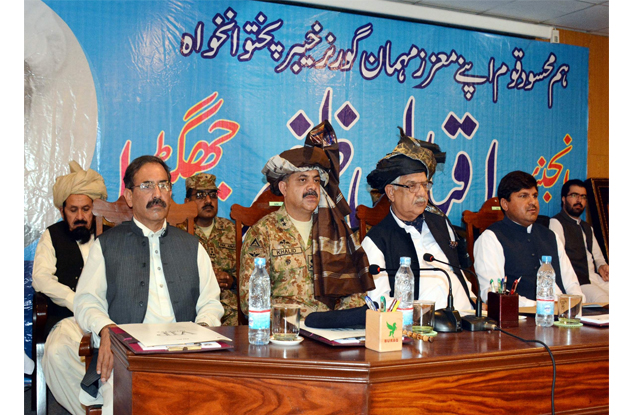 ---
DI KHAN:



The survey of 5,576 affected houses in South Waziristan and North Waziristan agencies have been completed and by the end of 2016 all the displaced people would be sent back to their homes.




Governor Iqbal Zafar Jhagra said this while addressing locals on Saturday in Sarwakai, South Waziristan.

He distributed Rs7.5 million among owners of 100 houses that were damaged during the war against militancy.

Jhagra said the government was taking steps to bring the tribespeople into the mainstream under a multi-purpose plan. He said work was under way on the Annual Development Programme and projects for safe drinking water, education, health and revival of agriculture.

He said sacrifices of the tribespeople are respected and now it is time for them to be compensated.

Out of reach

Although journalists in the area were invited to cover the ceremony, security personnel stopped them from entering the premises.

The journalists who were stopped from covering the event were affiliated with Ladha Press Club, Jandollah Press Club and District Tank Press Club. They were invited by the political administration of South Waziristan.

"There were more than two dozen local journalists," a journalist told The Express Tribune. "We had our press cards and the invitation letters. But we were not allowed [to enter]."

He added they were searched at least five times at various checkpoints to reach the gate but were stopped again and told to go back.

"It is humiliating and annoying – we condemn this act," he added.

Published in The Express Tribune, April 10th, 2016.