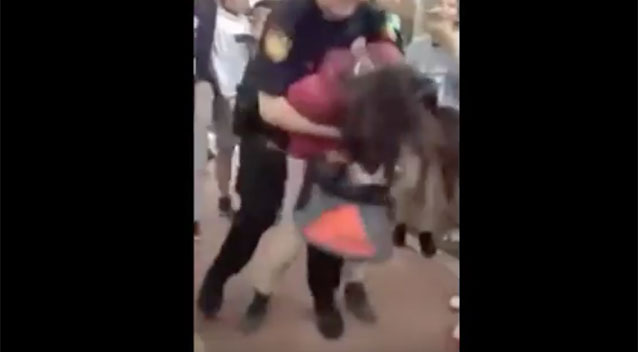 ---
SAN ANTONIO: A widely seen cell phone video of a school police officer in San Antonio bodyslamming a 12-year-old girl was decried by two rights groups on Thursday who called for schools to rein in violence by officers against students.

The San Antonio Independent School District has launched an investigation into the officer, Joshua Kehm, who has been with the district since February 2015. He has been placed on leave pending its outcome.

US police officer slams black student; video sparks outrage

"We hope this serves as a wake-up call not only to San Antonio ISD – but to the broader community – that we need a full dialogue around the appropriate role of police in schools," said Deborah Fowler, executive director of Texas Appleseed, a public interest justice center.

The incident in the video that hit social media on Wednesday is one of several in recent months showing school resource officers using physical force against students.

The 33-second video of the March 29 incident shows the officer grappling with the girl in a school hallway, picking her up and throwing her to the ground.

The girl lies motionless while the officer handcuffs her. She then gets up and is led away by the officer.

Kehm was trying to break up a confrontation between Janissa Valdez and another girl, school district officials have said. Kehm declined to speak about the incident when reached by phone.

The video does not show what led to the incident or what happened after the girl was led away.

US police officer staged suicide to look like murder

"We call on the San Antonio Independent School District to fully investigate and hold accountable the officer in this video," said Matt Simpson, a senior policy strategist for the American Civil Liberties Union of Texas.

Supporters of the officers said they exercised appropriate force to subdue students who were a threat to others.

The mother of the student in San Antonio told reporters on Wednesday she was mad and upset by what happened.

"Who is to tell that he couldn't do it again to another student, or do it to my daughter again?" asked Gloria Valdez.

US police chiefs call for background checks for all gun purchases

Almost 31,000 police officers are at US public schools, according to the US Department of Education, and incidents of violence by officers in schools, especially against racial minorities, have raised concerns.

Two Baltimore school officers were charged with crimes in March after they were caught on video as one of them repeatedly slapped a student outside a high school.
COMMENTS
Comments are moderated and generally will be posted if they are on-topic and not abusive.
For more information, please see our Comments FAQ