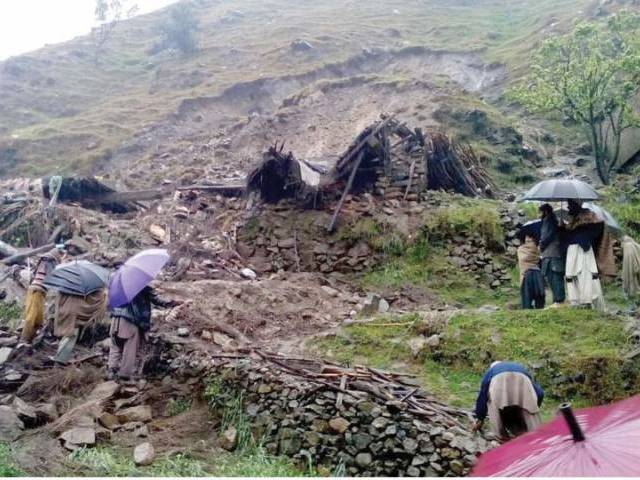 ---
KOHISTAN/GILGIT: The site of the landslide in Othar Nala, Kohistan has been declared a communal grave after an estimated 23 villagers could not be rescued in time.

Shamsur Rehman, a local journalist, told The Express Tribune on Friday authorities failed to retrieve the bodies of 23 villagers who are thought to have died after they remained under a landslide which occurred in Othar Nala early Monday. The search has been under way for four days and two bodies were found.

35 more feared dead after landslide hits houses in Kohistan

"The families of victims have publicly declared the site a communal grave," he said.

Initially, there was no official corroboration that the site was declared the final resting place for the villagers. However, Kohistan DPO Ali Rehmat Khan later confirmed the development.

"We have stopped the rescue operation with the consent of victims' families," he said.

Relief work

Over 50 residents of Komila, Kohistan collected Rs60,000 through donations and went to Othar Nala to help families of victims who died in the landslide.

KKH blocked

According to DSP Zahid, KKH remained blocked after another landslide occured Thursday evening near Chochang village, two kilometres from Dasu district headquarters.

"The highway is beyond repair," he said. "Traffic has been suspended and it will take a couple of days for the road to be reopened."

Scuffle

Khyber-Pakhtunkhwa Assembly Speaker Asad Qaiser and former information minister Shaukat Yousufzai visited Dasu where a scuffle broke out between two rival groups of Pakistan Tehreek-e-Insaf.

According to an insider, factions led by PTI members Mehboobullah Jan and MPA Malik Aurangzeb have a long-standing rivalry. "At the function, a worker of Jan's group forcibly grabbed the mike and started addressing supporters," he said. "Malik Aurangzeb snatched the mike after which a scuffle broke out and the guests were forced to leave the venue."

However, in his brief speech, Qaiser said the government had declared Kohistan a "calamity-hit district" and will allocate funds for rehabilitation and compensation.

Self-help

Hundreds of volunteers took matters in their own hands and cleared debris, restoring traffic on KKH in Gilgit-Baltistan. Over 300 volunteers cleared Nagar-Hunza section of KKH that was blocked in at least four places.

"It was a joint decision taken in view of the shortage of resources," Munawar Hussain, a resident of Nagar, said on Friday. "It took two days to clear four major blocks."

Rescuers search for 23 in Kohistan landslide; flood toll at 92

"They used hammers to break boulders and other equipment to remove debris from the highway," said Shaukat Ali, a local. "A bulldozer provided by the government also helped the volunteers in clearing the debris."

G-B Minister for Works Dr Muhammad Iqbal said KKH would be opened in 10 to 15 days as the government lacks the equipment and machinery to overcome the destruction.

Lack of trust

Leaders of Pakistan Peoples Party Gilgit-Baltistan chapter have asked the army to spearhead relief operations following heavy rain and landslides in the region.

The request was made by PPP G-B President Advocate Amjad Hussain while speaking to journalists in Gilgit on Friday.

He added, "[The civilian government] neither [has] the wit nor will to perform these responsibilities."

Hussain criticised Chief Minister Hafeezur Rahman for visiting Islamabad while the region was going through a crisis.




casualties




Names of those who died in Othar Nala

1.    Jani s/o Manaf

2.    Zatoori Bibi w/o Manaf

3.    Shaheen Bibi w/o Zaghroon

4.    Mehboob s/o Zaghroon

5.    Usama s/o Zaghroon

6.    Aisha Bibi d/o Zaghroon

7.    Nashreen Bibi w/o Sakhi

8.    Qismat Bibi  d/o Sakhi

9.    Rafeeda Bibi d/o Sakhi

10.  Nazia Bibi d/o Sakhi

11.  Rabia Bibi d/o Safi

12.  Fatima Bibi d/o Safi

13.  Zar Bibi w/o Nazri

14.  Aurangzeb s/o Nazri

15.  Tariq s/o Nazri

16.  Mujahid s/o Nazri

17.  Arif s/o Nazri

18.  Umrain s/o Nazri

19.  Omar Khan s/o Nazri

20.  Sarn Zeb s/o Nazri

21.  Arshad s/o Nazri

22.  Samreen Bibi d/o Nazri

23.  Nazneen Bibi d/o Nazri

24.  Sona Bibi d/o Nazri

25.           Soroz Bibi d/o Nazri

Published in The Express Tribune, April 9th,  2016.