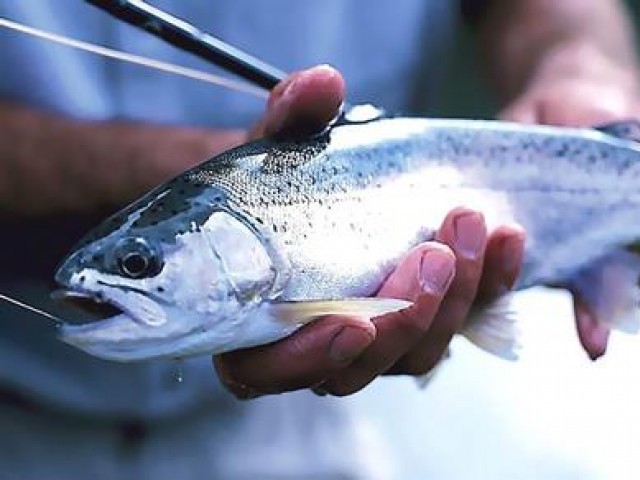 ---
MINGORA: The struggle of trout fishermen and fisheries in Swat continues as current floods have once again devastated the industry. Infrastructure was damaged and hundreds of trout were killed by floods of muddy water, local hatchery owners said.

The delicacy was popular with tourists but both the fishing business and tourism suffered severely during militant occupation of the valley. After the 2010 floods, the trout business had recently been thriving again.




According to individual estimates, the damage amounts to more than Rs200 million. While speaking to The Express Tribune, the assistant director of fisheries, Jansher Khan, reported extensive damage at privately-run hatcheries; at least five of them situated on Cheel Road. However, Jansher said government-run hatcheries remained safe in the recent rain spell, which is expected to continue over the weekend.

Where did the fish go

Residents of Bahrain said a large number of trout was washed away downstream. The specie, which swims up-stream and whose natural habitat is in very clear water, could not survive the influx of muddy water carrying landslide debris.

Usman Ali, owner of Madyan trout farm, said he suffered losses worth almost Rs100 million.

The fish, which is usually sold at rates of Rs1,500 to 2,000 a kilo, had to be sold at Rs200 to 300 in adjoining areas, Ali said. "We had no other option but to load the [dead] trout onto any available vehicle and sell it immediately," he told The Express Tribune.

Swat is not only one of the largest trout producing districts within Malakand Division, but of the entire country. The industry began to grow in the early 1990s when the government offered a number of small grants to locals. Businesses flourished under official patronage but have been destroyed time and again by both natural and man-made calamities.




Hatchery owners Wakeel Khan and Mutawakil Khan said at least some infrastructure needed to continue the business that had outlasted the 2010 floods.

"This time it was all washed away," Wakeel shared. "Even the breeding streams and incubators [are gone]."

He asked the government for quick help to restart their business.

The fisheries department said it was still too soon to know the exact extent and monetary value of damage to the industry, but a survey has been started. Once the damage is assessed, the department said locals would be helped to re-establish their businesses in the district.

Published in The Express Tribune, April 9th,  2016.