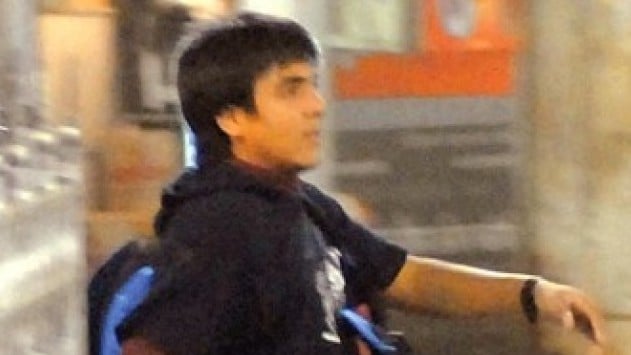 ---
KARACHI: Many Indian movies and Ajmal Kasab, one of the convicted in the 26/11 attack case, have much in common: Mumbai, big dreams, and Bollywood.

Convicted of murder, conspiracy and waging war against India, Mohammad Ajmal Amir Kasab's sentence is due this week. Ahead of the verdict, passed on Monday, was a side of Kasab only the jail wardens knew. According to NDTV, Kasab would sing "John, Jani, Janathan" from the film Naseeb and try speaking Marathi.

For the staff at Arthur Road Jail, the convict is less like a criminal and more of a familiar face. "By now, he has a smattering of Marathi in his vocabulary and we will certainly miss his attempts to speak in battered Marathi," said a warden. One of the jail insiders told, "He has been very cordial with the staff. He speaks to them in Marathi and hums a few other Hindi film songs in our presence." This is not the only streak of Bollywood in Kasab's sensational story.

During his trial, Kasab kept changing his statements in court which at one point seemed a saga more worthy of an Indian film. He told an Indian court last December that he did not perpetrate the Mumbai attacks, but only wanted to have a career in the Indian film industry. Kasab said that he headed for Mumbai, the destination of thousands of would-be starlets daily, only to be arrested and accused of being a terrorist.

"I was not present in the Chhatrapati Shivaji terminus and I did not open fire inside the railway station. I have never seen an AK-47 in my life, or even a rubber dingy," he told the astonished courtroom, according to CNN-IBN. Kasab's earlier story was no different from the plots of Bollywood films like Mai Madhuri Dixit Banna Chahti Hoon, Luck By Chance and Bunty Aur Babli.

CNN-IBN reported that Kasab, who had previously confessed his alleged involvement in the 26/11 attacks, insisted that this was not the case, smiling as he set out his new version of events. Far from arriving by sea with the other gunmen on the night the attacks began, he said, he had arrived nearly three weeks earlier hoping to break into Bollywood and had been picked up by the police three days before the attacks for being Pakistani.

It was his misfortune, he claimed, to be the doppelganger of one of the gunmen shot dead by police. Lacking a culprit to put on trial, they had taken him from his cell the day the attacks were launched, shot him to make it look as if he had been injured in the crossfire and then framed him, he said. If not credible, Kasab's earlier story did sound like a remarkable tale, spun from the script of Vishal Bhardwaj's Kaminey (where twin brothers get mixed up for their involvement with two different groups of criminals) and the real examples of people who head to Mumbai to work in Bollywood.